Take Off the Brake
25th September 1953
Page 30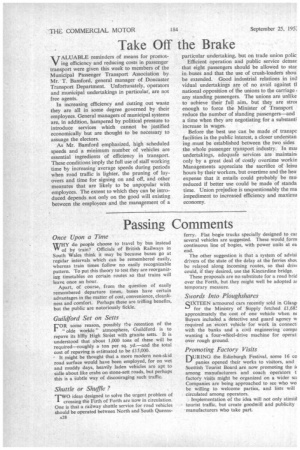 Page 30, 25th September 1953 —
Take Off the Brake
Close
VALUABLE reminders of means for promoting efficiency and reducing costs in passenger transport were given this week to members of the Municipal Passenger Transport Association by Mr. T. Bamford, general manager of Doncaster Transport Department. Unfortunately, operators and municipal undertakings in particular, are not free agents.
In increasing efficiency and cutting out waste they are all in some degree governed by their employees. General managers of municipal systems are, in addition, hampered by political pressure to introduce services which cannot be justified economically but are thought to be necessary to assuage the electors.
As Mr. Bamford emphasized, high scheduled speeds and a minimum number of vehicles are• essential ingredients of efficiency in transport. These conditions imply the full use of staff working time by increasing average speeds during periods when road traffic is lighter, the pruning of layovers and time for signing on and off, and other measures that are likely to be unpopular with employees. The extent to which they can be introduced depends not only on the good will existing between the employees and the management of a particular undertaking, but on trade union polic Efficient operation and public service demar that eight passengers should be allowed to star in buses and that the use of crush-loaders shon be extended. Good industrial relations in ind vidual undertakings are of no avail against ti national opposition of the unions to the carriage any standing passengers. The unions are unlike to achieve their full aim, but they are stroi enough to force the Minister of Transport reduce the number of standing passengers—and a time when they are negotiating for a substanti increase in wages.
Before the best use can be made of transpc facilities in the public interest, a closer understan ing must be established between the two sides the whole passenger transport industry. In mai undertakings, adequate services are maintaini only by a great deal of costly overtime workin Managements appreciate the sacrifice of leisu hours by their workers, but overtime and the hea. expense that it entails could probably be mu, reduced if better use could be made of standa time. Union prejudice is unquestionably the ma impediment to increased efficiency and maximu economy.