LONDON TRANSPORT REMEMBERS
25th October 1946
Page 31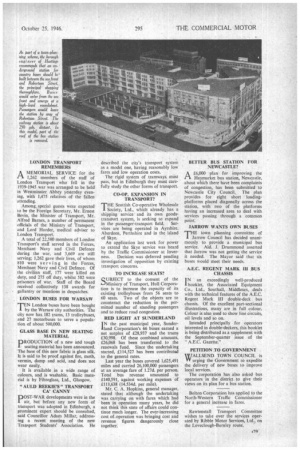 Page 31, 25th October 1946 —
LONDON TRANSPORT REMEMBERS
Close
PAA MEMORIAL SERVICE for the 1,262 members of the staff of London Transport who fell in the 1939-1945 war was arranged to be held in Westminster Abbey yesterday evening, with 1,475 relatives of the fallen attending.
Among, special guests were expected to be the Foreign Secretary, Mr. Ernest Bevin, the Minister of Transport, Mr. Alfred Barnes, a number of permanent officials of the Ministry of Transport, and Lord Horder, medical adviser to London Transport.
A total of 22,580 members of London Transport's staff served in the Forces, Merchant Navy and Civil Defence during the war, and 3,669 are still serving; 1,262 gave their lives, of whom 810 were se r v in g in the Forces, Merchant Navy and Civil Defence. Of the civilian staff, 177 were killed on duty, and 275 off duty, whilst 582 were prisoners of war. Staff of the Board received collectively 138 awards for gallantry or mentions in despatches.
LONDON BUSES FOR WARSAW
'TEN London buses have been bought I by the Warsaw city authorities. The city now has 182 trams, 13 trolleybuses, and 27 motorbuses to serve a population of about 500,000.
GLASS BASE IN NEW SEATING MATERIAL
PROD U Cfl ON of a new and tough seating material has been announced. The base of this new fabric is glass silk, It is said to be proof against fire, moth, vermin, damp and acid, and does not wear easily.
It is available in a wide range of colours, and is washable. Basic material is by Fibreglass, Ltd., Glasgow.
" AULD REEKIE'S" TRANSPORT CA' CANNY
POST-WA R developments were in the air, but before any new form of transport was adopted in Edinburgh, a prominent expert should be consulted, said Councillor Adam Millar, addressing a recent meeting of the new Transport Students' Association. He
described the city's transport system as a model one, having reasonably low fares and low operation costs.
The rigid system of tramways must pass, but in Edinburgh they must carefully study the other forms of transport.
CO-OP. EXPANSION IN TRANSPORT?
THE Scottish Co-operative Wholesale Society, Ltd., which already has a shipping service and its own goodstransPort system, is seeking to expand in the passenger-transport field. Services are being operated in Ayrshire, Aberdeen, Perthshire and in the island of Skye.
An application last week for power to extend the Skye service was heard by the Traffic Commissioner at Inver ness. Decision was deferred pending investigation of opposition by existing transort concerns.
TO INCREASE SEATS?
QUBJECT to the consent of the 1s.)Ministry of Transport, Hull Corporation is to increase the capacity of its existing trolleybuses from 56 seats to 60 seats. Two of the objects are to counteract the reduction in the permitted number of standing passengers and to reduce road congestion.
RED LIGHT AT SUNDERLAND IN the past municipal year, SunderMend Corporation's 66 buses earned a net surplus of £28,937 and the trams £30,998. Of these combined amounts. £26,068 has been transferred to the renewals fund. Since the undertaking started, £114,527 has been contributed to the general rates.
Last year the buses covered 1,625,491 miles and carried 26,100,000 passengers at an average fare of 1.27d. per person. Total bus revenue amounted to £140,591, against working expenses of £111,638 (14.5344 per mile).
Mr. C. A. Hopkins, general manager, stated that although the undertaking was carrying on with fares which had been in operation many years, he did not think this state of affairs could continue much longer. The ever-increasing cost of operation was bringing cost and revenue figures dangerously close together. BETTER BUS STATION FOR NEWCASTLE' £6,000 plan for improving the Haymarket bus station, Newcastle. about which there have been complaints of congestion, has been submitted to Newcastle City Council. The plan provides for eight short loadingplatforms placed diagonally across the station, with two of the platforms having an increased area to deal with services passing through a common
p
JARROW WANTS OWN BUSES
TilE town planning committee of arrow Council has decided unanimously to provide a municipal bus service. Ald. J. Drummond asserted that Jarrow was not getting the service it needed. The Mayor said that six buses would meet their needs.
A.E.C. REGENT MARK III BUS CHASSIS
IN an exceedingly well-produced
booklet, the Associated Equipment Co., Ltd., Southall, Middlesex, deals with the technical features of the A.E.C. Regent Mark Ill double-deck bus chassis. Of the excellent part-sectional illustrations, many are in full colour. Colour is also used to show line circuits, oil levels and so on.
Intended principally for operators interested in double-deckers, this booklet is being distributed as a supplement with the September-quarter issue of the " A.E.C. Gazette."
PETITION TO GOVERNMENT WTALLSEND TOWN COUNCIL is IT urging the Government to expedite the delivery of new buses toimprove local services.
The corporation has also asked bus operators in the district to give their views on its plan for a bus station.
Bolton Corporation has applied to the North-Western Traffic Commissioner for a general increase in fares.
Rawtenstall Transport Committee wishes to take over the services operated by Ribble Motor Services, Ltd., on the Lovectough-Burnley route.