Passenger Transport News
25th October 1946
Page 30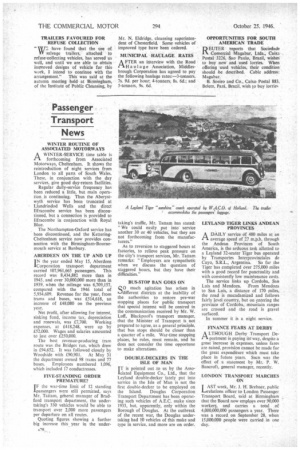 Page 30, 25th October 1946 —
Passenger Transport News
Close
WINTER ROUTINE OF ASSOCIATED MOTORWAYS
AWINTER-SERVICE time table is forthcoming from Associated Motorways, Cheltenham. It shows the reintroduction of night services from London to all parts of South Wales. These, in conjunction with the day services, give good day-return facilities.
Regular daily-s-ervice frequency has been reduced a little, but main operation is continuing. Thus the Aberystwyth service has been truncated at LIandrindod Wells and the direct Ilfracombe service has been discontinued. but a connection is provided to Ilfracombe in conjunction with Royal Blue.
The Northampton-Oxford service has been discontinued, and the KetteringCheltenham service now provides connection with the Birmingham-Bournemouth service at Banbury.
ABERDEEN ON THE UP AND UP
I N the year ended May 15, Aberdeen Corporation transport department carried 107,961,665 passengers. This record was 8,434,882 more than in 1945, and over 30,000,000 more than in 1939. when the mileage WAS 6,709,157, compared with the 1946 total of 5,934,609. Revenue for the year, from trams and buses, was £514,618, an increase of £48,080 on the previous year.
Net profit, after allowing for interest, sinking fund, income tax, depreciation and renewals, was £7,700. Working expenses, at £418,248. were up by £52,000. Wages and salaries amounted to just over £250,000.
The best revenue-producing tram route was the Bridges run, which drew in £94.652. It was followed closely by Woodside with L90,901. At May 31 the department owned 98 trams and 77 buses. Employees numbered 1,096, which included 17 conductresses.
FIVE-STANDING ORDER PREMATURE?
I F the war-time limit of 12 standing passengers were still permitted, says Mr. Tattam, general manager of Bradford transport department, the undertaking's 330 vehicles would be able to transport over 2,000 more passengers per departure on all routes. Quoting figures showing a further big increase this year in the under
taking's traffic. Mr. Tattam has stated: We could easily put into service another 30 or 40 vehicles, but they are not forthcoming from the manufacturers."
As to reversion to staggered hours at factories, to relieve peak pressure on the city's transport services, Mr. Tattam remarks: "Employers are sympathetic when we discuss the question of staggered hours, but they have their difficulties."
BUS-STOP BAN GOES ON Q0 much agitation has arisen in Odifferent districts at the inability of the authorities to restore pre-war stopping places for public transport that special interest will be centred in the communication received by Mr. W. Luff, Blackpool's transport manager, that the Minister of Transport is not prepared to agree, as a general principle, that bus stops should be closer than a quarter of a mile. War-time stopping places, he rules, must remain, and he does not consider the time opportune to make alterations.
DOUBLE-DECKERS IN THE ISLE OF MAN
IT is pointed out to us by the Assoleiated Equipment Co., Ltd., that the Leyland double-decker lately put into service in the Isle of Man is not the first double-decker to be employed on the Island. Douglas Corporation Transport Department has been operating such vehicles of A.E.C. make since 1933, but, apparently, only within the Borough of Douglas. At the outbreak of the recent war, the Douglas undertaking had 10 vehicles of this make and type in service, and more are on order. ADAILY service of 480 miles at an average speed of 27 m.p.h. through the Andean Provinces of South America, is the arduous task allotted to a Leyland 32-seater Tiger bus operated by Transportes Interprovinciales de
Cuyo, S.R.L., Argentina. So far the Tiger has completed over 275,000 miles with a good record for punctuality and with consistently low maintenance costs. The service links up Cordoba, San Luis and Mendoza. From Mendoza to San Luis, a distance of 170 miles, the road is macadamized and follows fairly level country, but on entering the province of Cordoba, mountain ranges are crossed and the road is gravel surfaced.
In summer it is a night service.
FINANCE FEARS AT DERBY
ALTHOUGH Derby Transport De partment is paying its way, despite a great increase in expenses, unless fares are raised, provision cannot be made for the great expenditure which must take place in future years. Sucn was the effect of a statement by Mr. P. W. Bancroft. general manager, recently.
LONDON TRANSPORT MARCHES ON
LAST week, Mr. J. H. Brebner, public relations officer to London Passenger Transport Board, said at Birmingham that the Board now employs over 90,000 workm, and carries a total of 4,000.000,000 passengers a year. There was a record on September 28, when 15,000,000 people were carried in one day.