NO TESTS FOR CERTAIN "LEARNERS"
25th October 1946
Page 29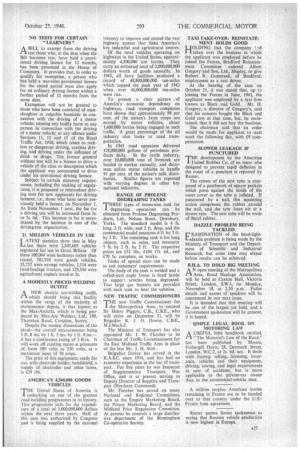 Page 29, 25th October 1946 —
NO TESTS FOR CERTAIN "LEARNERS"
Close
ABILL to exempt from the driving test those who, at the date when the Bill becomes law, have held a provisional driving licence for 12 months, has been presented in the House of Commons. It provides that, in order to qualify for exemption, a person who has held a war-time provisional licence for the stated period must also apply for an ordinary driving licence within a further period of 12 months from the same date.
Exemption will not be granted to those who have been convicted of manslaughter co culpable homicide in connection with the driving of a motor vehicle; causing any bodily harm to any person in connection with the driving of a motor vehicle; or any offence under Sections 11, 12 and 15 of the Road Traffic Act, 1930, which relate to reckless or dangerous driving, careless driving, and driving under the influence of drink or drugs. The licence granted without test will be a licence to drive a vehicle of the class or description which the applicant was accustomed to drive under his provisional driving licence.
Subject to certain statutory requirements, including the making of regulations, it is proposed to reintroduce driving tests for new applicants for driving licences, i.e., those who have never previously held a licence, on November 1. As from November 1 next, the fee for • a driving test will be increased from 5s. to 7s. 64. This increase in fee is necessitated by the increase in cost of the driving-test organization.
2f MILLION VEHICLES IN USE
LATEST statistics show that in May La last there were 2,505,605 vehicles registered for use in Great Britain. Of these 100,044 were hackneys (other than (rams), 501,928 were goods vehicles, 55,752 were exempt vehicles, 3,314 were road-haulage tractors, and 129,546 were agricultural engines taxed at 5s.
A MODESTLY PRICED WELDING OUTFIT
ANEW electric arc-welding outfit, which should bring this facility within the range of the majority of maintenance depots, is that known as the Max-Arclette, which is being produced by Max-Arc Welders, Ltd., 190, Thornton Road, Croydon, Surrey.
Despite the modest dimensions of the plant—the overall measurements being 1 ft. 8 ins. by 1 ft. Sins, by 1 ft. 4. ins.— it has a continuous rating of 3 Kva. It will work off existing mains at pressures of from 180 volts to 250 volts, at a maximum input of 30 amps.
'the price of this equipment, ready for use, with electrode holder, handshield, a supply of electrodes and other items, is £29 10s.
AMERICA'S 4,500,000 GOODS VEHICLES
THE United States of America is embarking on one of the greatest road-building programmes in its history. This programme calls for the expenditure of a total of 3,000,000,000 dollars within the next three years. Half of this sum was authorized by Congress and is being supplied by the national
treasury to improve and extend the vast highway system that links America's key industrial and agricultural centres.
Of the total vehicles operating on highways in the United States, approximately 4,500,000 are lorries. They carry an estimated total of 2,000,000,000 dollars worth of goads annually. In 1945, all lorry facilities produced a record of 48,800,000,000 ton-miles which topped the peak year of 1942 when over 46,000,000,000 ton-miles were run.
To present a clear picture , of America's economic dependency on highways, road transport companies have shown that approximately 98 per cent. of the nation's farm crops are moved by motor vehicles, about 1,600,000 lorries being engaged in such traffic. A great percentage of the oil industry also looks to road transportation.
In 1945 road operators delivered 128,000,000 gallons of petroleum pro ducts daily. In the cattle industry, over 10,000,000 tons of livestock are hauled to market annually, and dairymen utilize motor vehicles to handle 91 per cent. of the nation's milk distri bution. Similar figures are repeated with varying degrees in other key national industries.
RANGE OF PROLENE DEGREASING TANKS
THREE types of immersion tank for degreasing operations can be obtained from Prolene Degreasing Products, Ltd., Nelson Street, Dewsbury, 'Yorks. The standard model is 4 ft. long, 2 ft. wide, and 2 ft. deep, and ,the commercial model measures 6 ft. by 3 ft. by 3 ft. The remaining tank is for long objects, such as axles, and measures 7 ft. by 2 ft. by 2 ft. Th.: respective prices are £52 10s., £104 17s 6d., and £70 5s. complete, ex works.
Tanks of special sizes can be made to suit customers' requirements.
The body of the tank is welded and a rolled-steel angle frame is fixed inside to support articles being degreased. Two large gas burners are provided with each tank to heat the solution.
NEW TRAFFIC COMMISSIONERS
THE new Traffic Commissioner for the Metropolitan Area, to succeed Sir Henry Piggott, C.B., C.B.E., who will retire on December 31, will be Brigadier R. J. 0. Dowse, C.R.E., M.I.Mech.E.
The Minister of Transport has also appointed Mr. J. W. Fletcher to be Chairman of Traffic Commissioners for the East Midland Traffic Area in place of the late Mr. J. H. Stirk, Brigadier Dowse has served in the R.A.S.C. since 1914, and has had an extensive experience in the use of transport. For five years he was Inspector of Supplementary Transport, War Office, and is at present serving as Deputy Director of Supplies and Transport (Northern Command).
Mr, Fletcher has served on many National and Regional Committees, such as the Empire Marketing Board, the Potato Marketing Board, and the Midland Price Regulation Committee. At present he controls a large distributive department of the Birmingham Co-operative Society. TAXI TAKE-OVER: REINSTATEMENT HOLDS GOOD
HOLDING that the company taken over the business in which the applicant was employed before he joined the Forces, Bradford Reinstatement Committee ordered Albert Gregory and Son, Ltd., Shipley, to give Robert R. Gomersall, of Bradford, employment as a taxi driver.
At the hearing of the case on October 21, it was stated that, up tp joining the Forces in June, 1943, the applicant was employed by a taxi firm known as Black and Gold. Mr. H. Gregory, a director of Gregory's, said that his concern bought the Black and Gold cars at that time, but, he maintained, that it did not buy the business.
The chairman said that an order would be made for applicant to start work the following d,ay, with £9 compensation.
SLOWER LEAKAGE IF PUNCTURED
,THE development by the American I United Rubber Co. of an inner tube designed to prevent rapid deflation in the event of a puncture is reported by Reuter.
The crown of the new tube is composed of a patchwork of square pockets which press against the inside of the outer cover as the tube is inflated. If punctured by a nail, this squeezing action compresses the rubber around the nail, and the tyre loses air at a slower rate. The new tube will be made of Butyl rubber.
DAZZLE PROBLEM BEING TACKLED
EXAMINATION of the head-lightdazzle problem is being made by the Ministry of Transport and the Department of Scientific and Industrial Research, but some time may elapse before results can be achieved.
R.H.A. TO HOLD BIG MEETING
AN open meeting of the Metropolitan Area, Road Haulage Association, will be held at Caxton Hall, Victoria Street, London, S.W.1, on Monday, November 18, at 2.30 p.m. Fuller details and names of speakers will be announced in our next issue.
It is intended that this meeting will be one of the largest yet held, and a Government spokesman will be present, it is hoped.
SIMPLE LEGAL BOOK ON MOTORING LAW
A USEFUL little handbook entitled, tI"The Motorist's Law of the Road," has been published by Messrs. Fothergill Davis, 28, Denmark Street, London, W.C.2, at 2s. 6d. net. It deals with buying, selling*, licensing, insurance, vehicles and their equipment, driving, towing, and legal requirements in case of accidents, but is more applicable to the private-car owner than to the commercial-vehicle man.
A million surplus American lorries remaining in France are to be handed over to that country under the U.S.France loan agreement.
Reuter quotes Soviet spokesman as saying that Russian vehicle production is now highest in Europe.
Tags
Organisations
:
Congress
,
Empire Marketing Board
,
Birmingham Co-operative Society
,
Department of Scientific and Industrial Research
,
Midland Price Regulation Committee
,
Potato Marketing Board
,
Road Haulage Association
,
Northern Command
,
War Office
,
House of Commons
,
Ministry of Transport