SHOULD DIRECTION INDICATORS BE MADE COMPULSORY?
25th October 1946
Page 28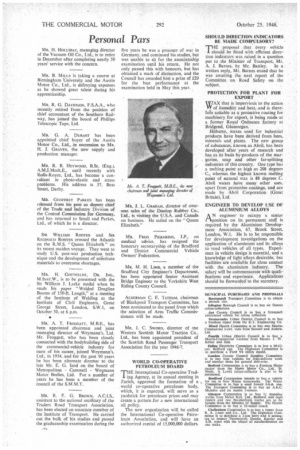 Page 28, 25th October 1946 —
SHOULD DIRECTION INDICATORS BE MADE COMPULSORY?
Close
THE proposal that every vehicle should be fitted with efficient direction indicators was raised in a question put to the Minister of Transport, Mr.
A. J. Barnes, by Mr. Battley. In a written reply, Mr. Barnes stated that he was awaiting the next report of the Committee on Road Safety on the subject.
PROTECTION FOR PLANT FOR EXPORT IWAX that is impervious to the action IT of humidity and heat, and is there
bale suitable as a protective coating for machinery for export, is being made at a former Royal Ordnance factory at Bridgend, Glamorgan.
Hitherto, waxes used for industrial products have been derived from bees. minerals and plants. The new group of substances, known as Abril, has been developed after years of research and has as its basis by-products of the margarine, soap and other fat-splitting industries of this country. One type has a melting point as high as 208 degrees C., whereas the highest known melting point of natural wax is 88 degrees C. Abrii waxes have many other uses, apart from protective coatings, and are made by Abril Corporation (Great Britain), Ltd.
ENGINEER TO DEVELOP USE OF ALUMINIUM ALLOYS
AN engineer to occupy a senior position an its permanent staff is required by the Aluminium Development Association, 67. Brook Street, London, WA. He is to be responsible for development investigations on the application of aluminium and its alloys to road vehicles of all types_ Experience in vehicle design is essential, and a knowledge of light alloys desirable, but facilities are available for close contact with the aluminium industry. The salary will be commensurate with qualifications and experience. Applications should be forwarded to the secretary.