Personal Pars
25th October 1946
Page 28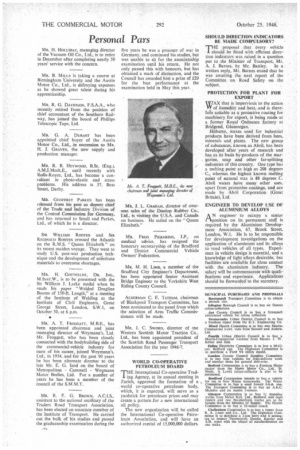 Page 28, 25th October 1946 —
Personal Pars
Close
Keywords :
MR. H. HOLLIDAY, managing director of the Vacuum Oil Co., Ltd., is to retire in December after completing nearly 50 years' service with the concern.
MR. B. Mitts is taking a course at Birmingham University and the Austin Motor Co., Ltd., is defraying expenses as he showed great talent during his apprenticeship.
MR, R. G. DAVIDSON, F.S.A.A., who recently retired from the position of chief accountant of the Southern Railway, has joined the board of Phillips Telescopic Taps, Ltd, Ma. G. A. DURANT has been appointed chief buyer of the Austin !Vlotor Co._ Ltd., in succession to Mitt. IL J. GRAvEs, the new supply and production manager.
MR. R. B. HEYwoosa, B.Sc. (Eng.), A.M.I.Mcch.E., until recently with Rolls-Royce, Ltd., has become a consultant in photo-elastic and stress problems, His address is 37, Bass Street, Derby.
MR. GEOFFREY PARK Es has been released from his pon as deputy rizief of the Trade and Industry Divisicnt of the Control Commission for Germany, and has returned to Small and Parkes, Ltd., of which he is a director.
SIR WILLIAM ROOTES and SIR REGINALD %DOTES crossed the Atlantic on the R,M.S. " Queen Elizabeth" on its recent maiden voyage. They went to study U.S. post-war production technique and the development of substitute materials to overcome shortages.
MR. H. GOTTFELDT,
M.INsr.W., is to be presented with the Sir William J. Larke medal when be reads his paper "Welded Dragline Booms of 150-ft. Length," at a meeting of the Institute of Welding at the Institute of Civil Engineers. Great George Street, London, S.W.1., an October 30, at 6 p.m.
•
MR. A. T. FROGGATT, M.B.E., has been appointed chairman and joint managing director of Weymann's, Ltd. Mr. Froggatt, who has been closely connected with the bodybuilding side of the commercial-vehicle industry for most of his career, joined Weymann's. Ltd., in 1934. and for the past 10 years he has been alternate director to the late Mr. E. G. hod on the board of Metropolitan Carmel Weysmarin Motor Bodies, Ltd. For a number of years he has been a member of the Council of the S.M.M.T.
MR. R. E. G. BROWN, A.C.LS., assistant to the national secrkary of the Traders Road Transport Association, has been elected an associate member of the institute of Transport. He carried out the bulk of his studies and passed the graduateship examination during the
five years he was a prisoner of war in Germany, and continued his studies, but was unable to sit for the associateship examination until his return. He not only passed this with honours, but has obtained a mark of distinction, and the Council has awarded him a prize of £20 for the best performance at the examination held in May this year.
Ms_ I. L. GRAHAM, director of over-95 sales of the Dunlop Rubber Co., Litt, is visiting the U.S.A..and Callas on business. He sailed on the " Queen Elizabeth."
MR. Foto PICKERING, LP., on medical advice, has resigned the honorary secretaryship of the Bradford and District Commercial Vehicle Owners' Federation.
Ma., M. H. LIMB, a member of the Bradford City Engineer's Department, has been appointed Senior Assistant Bridge Engineer to the Yorkshire West Riding County Council.
ALDERMAN C. E. Tkritsor, chairman of Blackpool Transport Committee, has been nominated to the panel from which the selection of Area Traffic Commissioners will be made.
Mn. J. C. SWORD, director of me Western Scottish Motor Traction Co., Ltd., has been appointed president of the Scottish Road Passenger Transport Association for the year 1946-7.
WORLD CO-OPERATIVE PETROLEUM BOARD E International Co-operative Trad ing Agency, at its annual meeting in Zurich, approved the formation of a world co-operative petroleum body, which, it is expected, will serve as a yardstick for petroleum prices and may create a pattern for a new international oil policy.
The new organization will be called the International Co-operative Petroleum Association, and will have an authorized capital of 15,000,000 dollars.
Tags
Organisations
:
Council of the S.M.M.T.
,
Control Commission for Germany
,
Scottish Road Passenger Transport Association
,
Institute of Welding
,
Traders Road Transport Association
,
District Commercial Vehicle Owners' Federation
,
Institute of Civil Engineers
,
Birmingham University
,
International Co-operative Petroleum Association
,
Yorkshire West Riding County Council
,
Bradford City Engineer's Department
People
:
A. T. FROGGATT
,
J. C. SWORD
,
G. A. DURANT
,
GEOFFREY PARK
,
H. HOLLIDAY
,
H. GOTTFELDT
,
C. E. Tkritsor
,
I. L. GRAHAM
,
B. Mitts
,
WILLIAM ROOTES
,
William J. Larke