News of the Week
25th October 1946
Page 26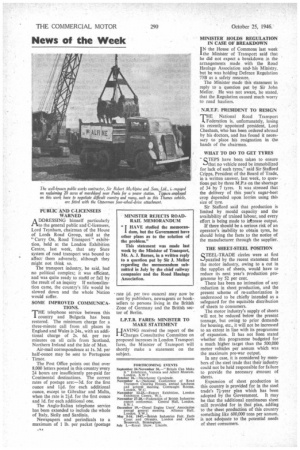 Page 27
Page 26, 25th October 1946 —
News of the Week
Close
PUBLIC AND C-LICENSEES WARNED
ADDRESSING himself particularly to the general public and C-licensees, Lord Teynham, chairman of the House of Lords Road Group, said at the "Carry On, Road Transport" exhibition, held at the London Exhibition Centre, last week, that any State system of road transport was bound to affect them adversely, although they might not think so.
The transport industry, he said, had no political complex; it was efficient, and was quite ready to stattd or fall by the result of an inquiry If nationalization came, the country's life would be slowed down and the whole Nation would suffer.
SOME IMPROVED COMMUNICATIONS.
THE telephone service between this 1 country and Bulgaria has been restored. The minimum charge for a three-minute call from all places in England and Wales is 24s., with an additional charge of 2s. 6d. per two minutes on all calls from Scotland, Northern Ireland and the Isle of Man, Air-mail correspondence at Is. 3d. per half-ounce may be sent to Portuguese Timor.
The Post Office points out that over 8,000 letters posted in this country every 24 hours are insufficiently pre-paid for Continental destinations. The correct rates of postage are:-3d. for the first ounce and lid. for each additional ounce, except to Gibraltar and Malta, when the rate is 2id. for the first ounce and Id. for each additional one.
The Anglo-Italian telephone service has been extended to include the whole of Italy, Sicily and Sardinia.
Newspapers and periodicals to a maximum of 1 lb. per packet (postage
• rate id. per two ounces) may now be sent by publishers, newsagents or booksellers to persons living in the British Zone of Germany and the British sector of Berlin.
L.P.T.B. FARES: MINISTER TO MAKE STATEMENT
HAV1NG received the report of the 'Charges Consultative Committee on proposed increases in London Transport fares, the Minister of Transport will shortly make a statement on the subject. MINISTER. HOLDS REGULATION rei CASE OF BREAKDOWN I N the House of Commons last week the Minister of Transport said that he did not expect a breakdown in the arrangements made with the Road Haulage Association and his Ministry, but he was holding Defence Regulation 73B as a safety measure.
The Minister made this statement in reply to a question put by Sir John Mellor. He was not aware, he stated, that the Regulation caused much worry to road hauliers.
N.R.T.F. PRESIDENT TO RESIGN 'T'HE Road Transport
iZeration is, unfortunately, losing its recently appointed president, Lord Chesham, who has been ordered abroad by his doctors, and has found it necessary to place his resignation in the hands of the chairman.
WHAT TO DO TO GET TYRES
" STEPS have been taken to ensure S_ no vehicle need be immobilized for lack of such tyres," said Sir Stafford Cripps, President of the Board of Trade, in a written answer, last week, to questions put by three M.P.s on the shortage of 34 by 7 tyres. It was stressed that the delivery of this year's sugar-beet crop depended upon lorries using this size of tyre.
Sir Stafford said that production is limited by mould capacity and the availability of trained labour, and every effort is being made to intrease output.
If there should be a serious risk of an operator's inability to obtain tyres, he should bring the facts to the notice of the manufacturer through the supplier.
THE SHEET-STEEL POSITION
STEEL-TRADE circles were at first puzzled by the recent statement that the motor industry, owing to a cut in the supplies of sheets, would have to reduce its next year's production programme by 52 per cent.
There has been no intimation of any reduction in sheet production, and the present scheme of re-authorization is understood to be chiefly intended as a safeguard for the equitable distribution of sheets to consumers.
The motor industry's supply of sheets will not be reduced below the present tonnage, but owing to prior demands for housing, etc., it will not be increased to an extent in line with its programme of expansion. It has not been stated whether this programme budgeted for a much higher target than the 500,000 motor vehicles per annum which was the maximum pre-war output.
In any case, it is considered by members of the steel trade that their industry could not be held responsible for failure to provide the necessary amount of sheets.
Expansion of sheet production in this country is provided for in the steel trade's 7i-year plan which has been adopted by the Government. It may be that the additional continuous sheet mill Provided for in that plan, adding to the sheet production of this country something like 600,000 tons per annum, is not adequate to the potential needs of sheet consumers. ENGINE CAPACITY AND FUEL CONSUMPTION
NO appreciable difference in fuel consumption, even taking into consideration the higher rate of acceleration which it provided, would result from the substitution of a 125 b.h.p. oil engine for the normal 100 b.h.p. unit. This was one of the many interesting points brought out by Mr. S. Markland, director of Leyland Motors, Ltd., in an informal talk given at the recent annual general meeting of the Leyland Motors' Engineering Society.
"When we were considering the adoption of our 9.8-litre oil engine to replace the 8.6-litre and 7.4-litre engines, there were," he said, "some who wondered if we could offer the same miles per gallon with the larger engine, with its 25 per cent. increase in power."
As a result of tests, it was found that the variation in fuel consumption in no case amounted to more than 4 per cent. Sometimes the advantage was in favour of the smaller unit, and at others the larger engine showed up best.
The additional power, he said, would, therefore, make no substantial differences to economy unless the vehicle were driven frantically.
PERKINS PERPETUITY PLAN RE-INTRODUCED CIRST introduced in 1938, the Peri petuity Plan, initiated by the maker of Perkins oil engines, is again in operation. Briefly, the scheme provides for the replacement of the engine by another unit immediately a major overhaul is called for.
The guarantee on a replacement engine is similar to that on a new unit40,000 miles or 12 months—whichever be the lesser. Basically, the Plan is designed to safeguard the interests of the customer, and to ensure that his vehicle stays on the road for a maximum period of time. This replacement scheme has no limit in respect of mileages.
-WOOL TRANSPORT CONTROL UNRAVELLED
THE centralized organization of wool transport has come to an end with the cessation of Government control of the supply, prices and disposal of wool imported into this country. Homegrown wool, which forms a comparatively small proportion of the total supplies, is still subject to the Wool Control, because of the Government subsidy which British farmers receive. Most of the Control's activities, however, have been taken over by a new private company—United KingdomDominion Wool Disposals, Ltd.— formed under the auspices of the British, Australian, New Zealand and South African Governments. Auction sales of imported wool have been resumed as in pre-war days, and transport for its distribution is again arranged between individual buyers and transport operators.
Now in voluntary liquidation are two companies, West Riding Wool Transport Pool, Ltd., and Yorkshire and Lancashire Hauliers, Ltd., which, before the advent of the Ministry of War Transport's Road. Haulage Organization, were formed to operate respectively a short-distance and a longdistance pool of road haulage operators' vehicles to carry Wool Control traffic.
SEEKING A SHOCK-STOPPING TYRE
T0 avoid static-electricity tremors from being passed through handrails, London Transport is experimenting with Epecial tyres of high conductivity. Thnew tyres, if successful, will save some rubber.
Eighteen gas-driven vehicles, including two coaches and lorries, arrived in Moscow last week, after an 11-day test run from Berlin, says Reuter. 30,000 VEHICLES FOR EXPORT: 55,000 FOR HOME USE I N August, British manufacturers produced 109 Service commercial vehicles, 10,129 other goods vehicles and wheeled tractors, and 877 public service vehicles (including trolleybuses). Of the total of 11,115, 3,782 were for export and 7,224 for home use. The S.M.M.T. computed average monthly production for 1938 was 9,000.
The first eight months of the year saw the manufacture of 90,614 commercial vehicles, consisting of 5,220 for Service use, 79,600 other goods vehicles and wheeled tractors, and 5,794 public service vehicles. To the figure for other goods vehicles must be added 648 electrics in the first six months. Altogether 30,031 were made for export and 55,363 for Britain.