WANTED ERRAND-BOY-DRIVERS.
25th October 1921
Page 11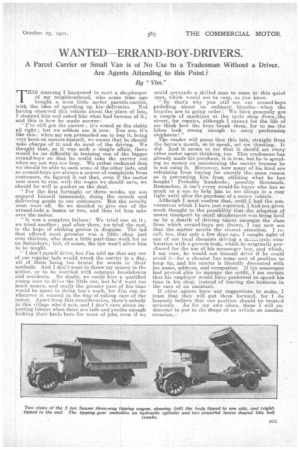 Page 11, 25th October 1921 —
WANTED ERRAND-BOY-DRIVERS.
Close
Keywords :
A Parcel Carrier or Small Van is of No Use to a Tradesman Without a Driver. Are Agents Attending to this Point?
By "Vim."
THIS morning I happened to meet a. shopkeeper of my neighbourhood, who some time ago bought a neat little motor parcels-carrier, with the idea of speeding up hisdeliveries. Not having observed this vehicle about the place of late, I stopped him and asked him what had become of it ; and this is how he made answer : " I've still gat the carrier ; it's round at the stable all right ; but we seldom use it now. You see, it's like this: when ray son persuaded me to buy it, being very keen on motors himself, we meant that he should take icharge of it and do most of the driving. We thought that, as it was such a simple affair, there would be no difficulty in training one of the bigger errand-boys so that he could take the carrier out when my son was too busy. We rather reckoned that we -should be able to sack some of the other lads, and as errand-boys are always a source of complaints from customers, we figured it out that even if the motor cost more to run, with the wages we should save, we should be well in pocket on the deal.
"For the first fortnight or three weeks, my son enjoyed himself immensely, doing the rounds and delivering goods to our customers. But the novelty soon wore off. Se we decided to give one of the errand-lads a lesson or two, and then_ let him take over the motor. .
"It was a complete failure ! We tried one at it ; we tried another; and after them, we tried the rest, in the. hope of striking genius in disguise. The lad that offered most promise was a little chap just over thirteen, who does a little part-time work for us on Saturdays ; but, of couse, the law won't allow him to be taught.
"I don't myself drive, but Jim told me that any one of our regular lads would wreck the carrier in a. day, all of them being too brutal for words in their method. And I don't want to throw my money in the gutter, or to be worried with constant breakdowns . and accidents. No doubt, we could hire a qualified young man to drive the little car, but he'd want too much money, and really the greater part of his time would be spent in doing boy's work, for Jim can do whatever is wanted in the way of taking care of the motor. Apart from this consideration, there's nobody in this village who'd suit, and I don't care about importing labour when there are lads and youths enough kicking their heels here for want of jobs, even if we could persuade a skilled man to conic to this quiet spot, which would not be easy, as you know.
"So that's why you still see our errand-boys pedalling about on ordinary bicycles—when the bicycles are in going order : We have generally got a couple of machines at the cycle shop down ;the street, for repairs, although I cannot for the life of methink how the boys break them, for to me the bikes look strong enough to carry performing elephants-!" .
The reader will guess that this tale, straight. from the horse's mouth, so to' speak, set me thinking. It
did. And it seems to me that it should set every
other motor agent thinking, too. This tradesman has already made his purchase, it is true, but he is spend ing no money on maintaining the carrier because he is. not using it. Moreover, how many of his kind are refraining from buying for exactly the. same reason
as is preventing him from utilizing what he has bought? Probably 'hundreds ; possibly thousands. Remember, it isn't every would-he buyer who has so much as a son to help him to see things in a rosy light until after the purchase of a motor vehicle.
Although I must confess that, ;until I had the con, versation which I have just reported, 1 had not given
much thought to the possibility that the adoption of motor transport by small shopkeepers was being held up by adearth of driving talent amongst the class from which errand-boys are drawn, I can now see that the matter merits the closest attention. I recall, too, that only a few days ago, I caught sight of
one of our local chemists driving a ni-cycle com
bination with a parcels body, whieh he originally purchased for the use of his messenger boy, and which, I am sure, he would not himself drive if he -could avoid it—for a chemist has some sort of position to keep Up, and his carrier is liberally decorated with
his name, address, and occupation. If his messenger had proved able to manage the outfit, I am certain that his employer would have preferred to spend his time in his shop, instead of leaving the business in the care of an assistant.
If other agents have any suggestions to make, I trust that they will put them forward, for I do honestly believe that. our position should be treated seriously. As for my own ideas, these I will endeavour to put in the shape of an article on another occasion.