THE COMMON ROOM by George Wilmot
25th November 1966
Page 70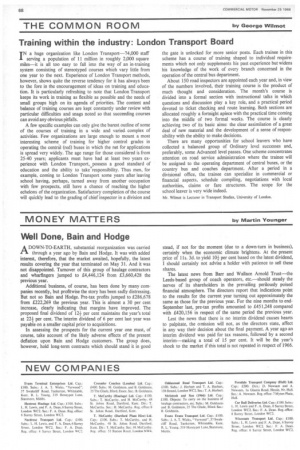 Page 70, 25th November 1966 —
THE COMMON ROOM by George Wilmot
Close
Training within the industry: London Transport Board
TN a huge organization like London Transport-74,000 staff serving a population of 11 million in roughly 2,000 square miles—it is all too easy to fall into the way of an in-training system consisting of stereotyped courses which vary little from one year to the next. Experience of London Transport methods, however, shows quite the reverse tendency for it has always been to the fore in the encouragement of ideas on training and education. It is particularly refreshing to note that London Transport keeps its work in training as flexible as possible and the needs of small groups high on its agenda of priorities. The content and balance of training courses are kept constantly under review with particular difficulties and snags noted so that succeeding courses can avoid any obvious pitfalls.
A few specific examples can only give the barest outline of some of the courses of training in a wide and varied complex of activities. Few organizations are large enough to mount a most interesting scheme. of training for higher control grades in operating the central (red) buses in which the net for applications is spread very widely. The age range for those considered is from 25-40 years; applicants must have had at least two years experience with London Transport, possess a good standard of education and the ability to take 'responsibility. Thus men, for example, coming to London Transport some years after leaving school having, perhaps, turned away from another occupation with few prospects, still have a chance of reaching the higher echelons of the organization. Satisfactory completion of the course will quickly lead to the grading of chief inspector in a division and
the gate is unlocked for more senior posts. Each trainee in this scheme has a course of training shaped to individual requirements which not only supplements his past experience but widens his knowledge of the work of every branch concerned in the operation of the central bus department.
About 150 road inspectors are appointed each year and, in view of the numbers involved, their training course is the product of much thought and consideration. The month's course is divided into a formal section with instructional talks in which questions and discussion play a key role, and a practical period devoted to ticket checking and route learning. Both sections are allocated roughly a fortnight apiece with the practical time coming into the middle of two formal weeks. The course is clearly achieving two of its basic aims: the clear assimilation of a great deal of new material and the development of a sense of responsibility with the ability to make decisions.
There are many opportunities for school leavers who have collected a balanced group of Ordinary level successes and, preferably, some Advanced level passes. One scheme concentrates attention on road service administration where the trainee will be assigned to the operating department of central buses, or the country bus and coaches department. After a period in a divisional office, the trainee can specialize in commercial or financial aspects, schedule compiling, negotiations with local authorities, claims or fare structures. The scope for the school leaver is very wide indeed.
Mr. Wilmot is Lecturer in Transport Studies, University of London.