MONEY MATTERS by Martin Younger
25th November 1966
Page 70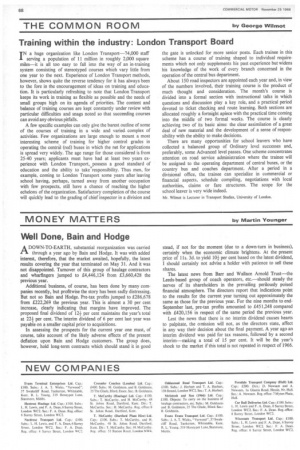 Page 70, 25th November 1966 —
MONEY MATTERS by Martin Younger
Close
Well Done, Bain and Hodge
ADOWN-TO-EARTH, substantial reorganization was carried through a year ago by Bain and Hodge. It was with added interest, therefore, that the market awaited, hopefully, the latest results covering the year that terminated on May 31. And it was not disappointed. Turnover of this group of haulage contractors and wharfingers jumped to £4,446,124 from £3,660,428 the previous year.
Additional business, of course, has been done by many companies recently, but profitwise the story has been sadly distressing. But not so Bain and Hodge. Pre-tax profits jumped to £286,678 from £222,269 the previous year. This is almost a 30 per cent increase, clearly indicating that margins have improved. The proposed final dividend of 12+ per cent maintains the year's total at 22-1 per cent. The interim dividend of 6 per cent last year was payable on a smaller capital prior to acquisitions.
In assessing the prospects for the current year one must, of course, take account of the likely adverse effects of the present deflation upon Bain and Hodge customers. The group does, however, hold long-term contracts which should stand it in good stead, if not for the moment (due to a down-turn in business), certainly when the economic climate brightens. At the present price of I Is. 3d. to yield 10+ per cent based on the latest dividend, I should certainly not advise a holder with patience to sell these shares.
The latest news from Barr and Wallace Arnold Trust—the Leeds-based group of coach operators, etc.—should steady the nerves of its shareholders in the prevailing perilously poised financial atmosphere. The directors report that indications point to the results for the current year turning out approximately the same as those for the previous year. For the nine months to endSeptember last, pre-tax profits amounted to £451,248 compared with £420,156 in respect of the same period the previous year.
Lest the news that there is no interim dividend causes hearts to palpitate, the omission will not, as the directors state, affect in any way their decision about the final payment. A year ago an interim dividend was paid for tax reasons, followed by a second interim—making a total of 15 per cent. It will be the year's shock to the market if this total is not repeated in respect of 1966.