Bird's Eye
25th November 1966
Page 49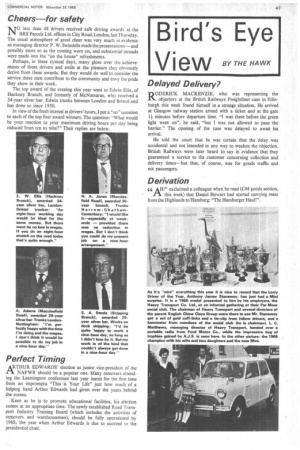 Page 49, 25th November 1966 —
Bird's Eye
Close
View BY THE HAWK
Cheers—for safety
NO less than 48 drivers received safe driving awards at the BRS Parcels Ltd. offices in City Road, London,last Thursday. The usual atmosphere of good cheer was very much in evidence as managing director P. W. Swindells made the presentations—and possibly more so as the evening wore on, and substantial inroads were made into the "on the house" refreshments.
Perhaps, in these cynical days, many gloss over the achievements of these drivers and smile at the pleasure they obviously derive from these awards. But they would do well to consider the service these men contribute to the community and envy the pride they show in their work.
The top award of the evening this year went to Edwin Ellis, of Hackney Branch, and formerly of McNamaras, who received a 34-year silver bar. Edwin trunks between London and Bristol and has done so since 1950.
In view of the fresh interest in drivers' hours, I put a "set" question to each of the top four award winners. The question: -What would be your reaction to your ,maximum driving hours per day being reduced from ten to nine?" Their replies are below.
Perfect Timing
AZTHUR EDWARDS' election as junior vice-president of the NAFWR should be a popular one. Many removers attending the Leamington conference last year learnt for the first time from an impromptu "This is Your Life" just how much of a helping hand Arthur Edwards had given over the years behind the scenes.
Keen as he is to promote educational facilities, his election comes at an appropriate time. The newly established Road Transport Industry Training Board (which includes the activities of removers and warehousemen), should be fully operational by 1968, the year when Arthur Edwards is due to succeed to the presidential chair.
Delayed Delivery?
RODERICK MACKENZIE, who was representing the objectors at the British Railways Freightliner case in Edinburgh this week found himself in a strange situation. He arrived at Glasgow railway station armed with a ticket and at the gate 14 minutes before departure time. "I was there before the green light went on", he said, "but I was not allowed to pass the barrier." The opening of the case was delayed to await his arrival.
He told the court that he was certain that the delay was accidental and not intended in any way to weaken the objection. British Railways were later heard to say in evidence that they guaranteed a service to the customer concerning collection and delivery times—but that, of course, was for goods traffic and not passengers.
Derivation
An" exclaimed a colleague when he read (CM goods section, this week) that Daniel Stewart had started carrying meat from the Highlands to Hamburg: "The Hamburger Haul!".