Diesel fuel sedimenter
25th November 1966
Page 48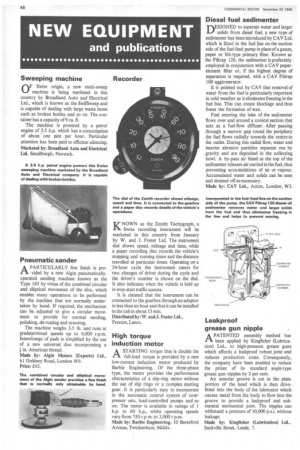 Page 48, 25th November 1966 —
Diesel fuel sedimenter
Close
DESIGNED to separate water and larger solids from diesel fuel, a new type of sedimenter has been introduced by CAV Ltd. which is fitted in the fuel line on the suction side of the fuel-feed pump in place of a gauze, paper or felt-type primary filter. Known as the Filtrap 120, the sedimenter is preferably employed in conjunction with a CAV paperelement filter or, if the highest degree of separation is required, with a CAV Filtrap 100 agglomerator.
It is pointed out by CAV that removal of water from the fuel is particularly important in cold weather as it eliminates freezing in the fuel line. This can create blockage and thus foster the formation of wax.
Fuel entering the inlet of the sedimenter flows over and around a conical section that acts as a fuel-flow diffuser. After passing through a narrow gap round the periphery the fuel flows radially towards the centre to the outlet. During this radial flow, water and heavier abrasive particles separate out by gravity and are deposited in the collecting bowl. A by-pass air bleed at the top of the sedimenter releases air carried in the fuel, thus preventing accumulations of air or vapour. Accumulated water and solids can be seen and drained off as necessary.
Made by: CAV Ltd., Acton, London, W3.