Know-how 2 —sly dig at MoT
25th November 1966
Page 44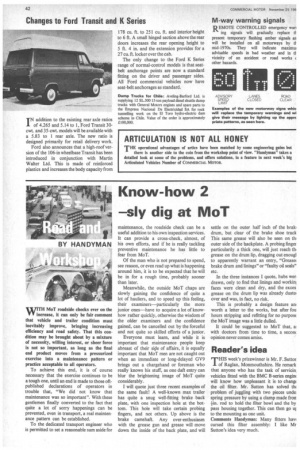 Page 44, 25th November 1966 —
Know-how 2 —sly dig at MoT
Close
NViTH MoT roadside checks ever on the iticrease, it can only be fair comment that vehicle and trailer condition must inevitably improve, bringing increasing efficiency and road safety. That this condition may be brought about by a mixture of necessity, willing interest, or sheer force is not so important, as long as the final end product moves from a pressurized exercise into a maintenance pattern or practice acceptable to all operators.
To achieve this end, it is of course necessary that the exercise continues to be a tough one, until an end is made to those oftpublished declarations of operators in trouble that, "We did not know that maintenance was so important". With these gentlemen finally converted to the fact that quite a lot of sorry happenings can be prevented, even in transport, a real maintenance pattern can be established.
To the dedicated transport engineer who is permitted to set a reasonable sum aside for
maintenance, the roadside check can be a useful addition to his own inspection services. It can provide a cross-check, almost, of his own efforts, and if he is really tackling preventive maintenance he has little to fear from MoT.
Of the man who is not prepared to spend, see reason, or even read up what is happening around him, it is to be expected that he will be in for a rough time, probably sooner than later.
Meanwhile, the outside MoT chaps are slowly gaining the confidence of quite a lot of hauliers, and to speed up this feeling, their examiners—particularly the more junior ones—have to acquire a lot of knowhow rather quickly, otherwise the wisdom of the older examiners and the confidence gained, can be cancelled out by the forceful and not quite so skilled efforts of a junior.
Everyone must learn, and while it is important that maintenance people keep abreast of their sicle of affairs, it is equally important that MoT men are not caught out when an immediate or long-delayed 0V9 brings out a chargehand or foreman who really knows his stuff, as one daft entry can blur the brightening image of MoT quite considerably.
I will quote just three recent examples of the same fault! A well-known max trailer has quite a snug well-fitting brake • back plate, with one inspection hole at the bottom. This hole will take certain probing fingers, and not others. Up above is the brake camshaft. Any over-enthusiasm with the grease gun and grease will move down the inside of the back plate, and will
settle on the outer half inch of the brak drum, but clear of the brake shoe track This same grease will also be seen on thi outer side of the backplate. A probing finger particularly a thick one, will just reach th grease on the drum lip, dragging out enougl to apparently warrant an entry, "Grease( brake drum and linings" or "faulty oil seals" etc.
In the three instances I quote, hubs wer drawn, only to find that linings and workinj faces were clean and dry, and the execs grease on the drum lip was already dusto over and was, in fact, no risk.
This is probably a design feature an worth a letter to the works, but after fon hours stripping and refitting for no purpos( the MoT image was a little dulled.
It could be suggested to MoT that, a with doctors from time to time, a secoric opinion never comes amiss.
Reader's idea
'THIS week's prizewinner is Mr. F. Suttor I of Raglan, Monmouthshire. He remark that anyone who has the task of servicin vehicles fitted with the BMC B-series erigino will know how unpleasant it is to changc the oil filter. Mr. Sutton has solved tin problem of juggling with two pieces uncle spring pressure by using a clamp made fron +in. rod to hold the filter bowl and the by pass housing together. This can then go ui to the mounting as one unit.
Comments Handyman: Many fitters hay( cursed this filter assembly: I like Mr Sutton's idea very much.