Changes to Ford Transit and K Series
25th November 1966
Page 44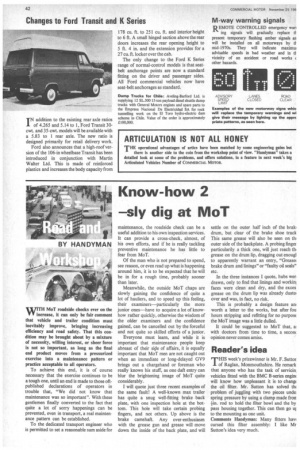 Page 44, 25th November 1966 —
Changes to Ford Transit and K Series
Close
TN addition to the existing rear axle ratios of 4.265 and 5.14 to 1, Ford Transit 30cwt. and 35-cwt. models will be available with a 5.83 to 1 rear axle. The new ratio is designed primarily for retail delivery work. Ford also announces that a high-roof version of the 106-in wheelbase Transit has been introduced in conjunction with Martin Walter Ltd. This is made of reinforced plastics and increases the body capacity from
178 Cu. ft. to 251 cu. ft. and interior height to 6 ft. A small hinged section above the rear doors increases the rear opening height to 5 ft. 4 in. and the extension provides for a 27 Cu. ft. locker over the cab.
The only change to the Ford K Series range of normal-control models is that seat belt anchorage points are now a standard fitting ori the driver and passenger sides. All Ford commercial vehicles now have seat-belt anchorages as standard.
Dump Trucks for Chile : Aveling-Barford Ltd. is supplying 12 SL.300 15-ton payload diesel shuttle dump trucks with General Motors engines and spare parts to the Empress Nacional De Electricidad SA for rock tunnelling work on the El Toro hydro-electric dam scheme in Chile. Value of the order is approximately £100,000.