'This is a wangle' Mr. Else
25th November 1966
Page 40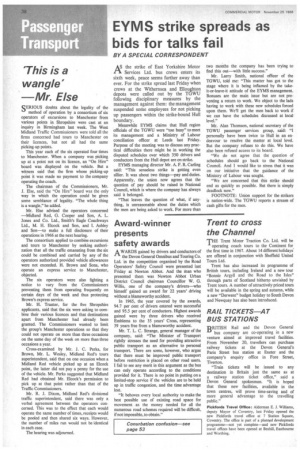 Page 40, 25th November 1966 —
'This is a wangle' Mr. Else
Close
SERIOUS doubts about the legality of the method of operation by a consortium of six operators of excursions to Manchester from various points in Shropshire were cast at an inquiry in Birmingham last week. The West Midland Traffic Commissioners were told all the firms concerned had tours to Manchester on their licences, but not all had the same picking-up points.
This year each of the six operated four times to Manchester. When a company was picking up at a point not on its licence, an "On Hire" board was displayed on the vehicle. But a witness said that the firm whose picking-up point it was made no payment to the company operating the coach.
The chairman of the Commissioners, Mr. J. Else, said the "On Hire" board was the only way in which the operation could be given sonic semblance of legality. "The whole thing is a wangle," he added.
Mr. Else advised the operators concerned —Midland Red, G. Cooper and Son, A. L. Jones and Co. Ltd., Smith's Eagle Coachways Ltd., M. H. Elcock and Son, and I. Ashley and Son—to make a full disclosure of their operations in 1966 at the next hearing.
The consortium applied to combine excursions and tours to Manchester by seeking authorization that all the traffic emanating from the six could be combined and carried by any of the operators authorized provided vehicle allowances were not exceeded. H. Brown and Sons, who operate an express service to Manchester, objected.
The six operators were also fighting a notice to vary from the Commissioners preventing them from operating frequently on certain days of the week and thus protecting Brown's express service.
Mr. H. Tranter, for the five Shropshire applicants, said that the six were asking to combine their various licences and that destinations apart from Manchester had already been granted. The Commissioners wanted to limit the group's Manchester operations so that they could not operate on more than three occasions on the same day of the week on more than three occasions a year.
Cross-examined by Mr. J. C. Perks, for Brown, Mr. L. Wesley, Midland Red's tours superintendent, said that on one occasion when a Midland Red vehicle picked up at an Elcock point, the latter did not pay a penny for the use of the vehicle. Mr. Perks suggested that Midland Red had obtained Mr. Elcock's permission to pick up at that point rather than that of the Traffic Commissioners.
Mr. R. J. Dixon, Midland Red's divisional traffic superintendent, said there was only a verbal agreement between the operators concerned. This was to the effect that each would operate the same number of times, receipts would be pooled and then shared six ways. However, the number of miles run would not be identical in each case.
The hearing was adjourned.