EYMS strike spreads as bids for talks fail
25th November 1966
Page 40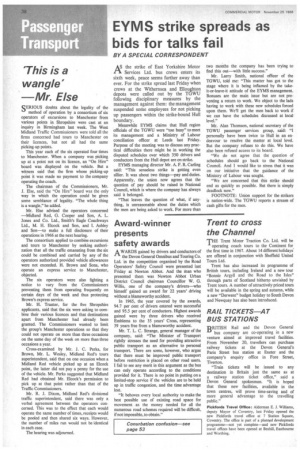 Page 40, 25th November 1966 —
EYMS strike spreads as bids for talks fail
Close
BY A SPECIAL CORRESPONDENT the strike of East Yorkshire Motor
Services Ltd. bus crews enters its sixth week, peace seems further away than ever. For the strike spread last Friday when crews at the Withernsea and Elloughton depots were called out by the TGWU following disciplinary measures by the management against them: the management suspended some employees for not picking up passengers within the strike-bound Hull boundary.
Meanwhile EYMS claims that Hull region officials of the TGWU were "too busy" to meet its management and a Ministry of Labour conciliation officer at Leeds last Friday. Purpose of the meeting was to discuss any practical difficulties there might be in working the disputed schedules over which 350 drivers and conductors from the Hull depot are on strike.
• EYMS managing director Mr. A. F. R. Carling said: "This senseless strike is getting even sillier. It was about two things—pay and duties. Apparently, the union now agrees that the question of pay should be raised in National Council, which is where the company has always said it belonged.
"That leaves the question of what, if anything, is unreasonable about the duties which the men are being asked to work. For more than two months the company has been trying to find this out—with little success."
Mr. Larry Smith, national officer of the TGWU, told me: "This matter has got to the stage where it is being inflamed by the takeit-or-leave-it attitude of the EYMS management. Bonuses are the main issue but are not preventing a return to work. We object to the lads having to work with these new schedules forced upon them. We'll get the men back to work if we can have the schedules discussed at local level."
Mr. Alan Thomson, national secretary of the TGWU passenger services group, said: "I personally have been twice to Hull in an endeavour to resolve the matter at local level. But the company refuses to do this. We have also been refused access to its board.
"We do not agree that the question of schedules should go back to the National Council. And I would like to stress that it was on our initiative that the guidance of the Ministry of Labour was sought.
"We are concerned that this strike should end as quickly as possible. But there is simply deadlock now."
FOOTNOTE: Union support for the strikers is nation-wide. The TGWU reports a stream of cash gifts for the men.