3R evidence in Torbay Pool marathon
25th November 1966
Page 35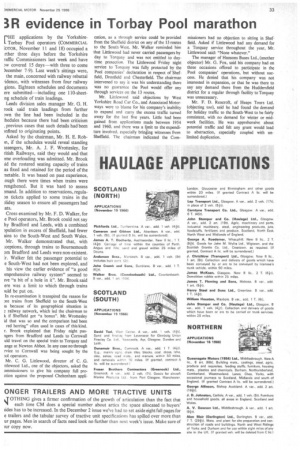 Page 35, 25th November 1966 —
3R evidence in Torbay Pool marathon
Close
HE applications by the YorkshireL. Torbay Pool operators (COMMERCIAL :OTOR, November 11 and 18) occupied a rther three days before the Yorkshire raffic Commissioners last week and have )w covered 15 days—with three to come )ecember 7-9). Last week's sittings were, the main, concerned with railway rebuttal idence, with witnesses from four railway gions. Eighteen schedules and documents ere submitted—including one 110-sheetng schedule of train loadings.
Leeds division sales manager Mr. G. H. rook said train loadings from further )wn the line had been included in the :hedules because there had been criticism , previous cases that such details had been mfined to originating points.
Asked by the chairman, Mr. H. E. Robm, if the schedules would reveal standing tssengers, Mr. A. J. F. Wrottesley, for ritish Railways, said they would and that 1.-ne overloading was admitted. Mr. Brook Lid the rostered seating capacity of trains as fixed and retained for the period of the netable. It was based on past experience, ough there were times when trains were rengthened. But it was hard to assess ;mand. In addition to reservations, regulam tickets applied to some trains in the )liday season to ensure all passengers had ats.
Cross-examined by Mr. F. D. Walker, for e Pool operators, Mr. Brook could not say hy Bradford and Leeds, with a combined loulation in excess of Sheffield, had fewer ains to the South-West and South Wales. Mr. Walker demonstrated that, with ,ceptions, through trains to Bournemouth om Bradford and Leeds were non-existent. [r. Walker felt the passenger potential to e South-West had not been explored, and his view the earlier evidence of "a good )mprehensive railway system" seemed to we "a bit of a hole in it". Mr. Brook said ere was a limit to which through trains mid be put on.
In re-examination it transpired the reason for 3re trains From Sheffield to the South-West is because of its geographical situation in .7. railway network, which led the chairman to k if Sheffield got "a bonus". Mr. Wrottesley Id that was so and the comparison had been red herring" often used in cases of this kind. r. Brook explained that Friday night pastigers from Bradford and Leeds to Cornwall uld travel on the special train to Torquay and ange at Newton Abbot. In any case no through rvice to Cornwall was being sought by the )ol operators.
Mr. C. G. Littlewood, director of C. G. ttlewood Ltd., one of the objectors, asked the ammissioners to give his company full proction against the proposed Cheltenham appli
cation, as a through service could be provided from the Sheffield district on any of the 13 routes to the South-West. Mr. Walker reminded him that Littlewood had never carried passengers by day to Torquay and was not entitled to daytime protection. The Littlewood Friday night service to Torquay was fully protected by the Pool companies' declaration in respect of Sheffield, Dronfield and Chesterfield. The chairman intervened to say it was his understanding there was no guarantee the Pool would offer any through services on the 13 routes.
Mr. Littlewood said objections by West Yorkshire Road Car Co., and Associated Motorways were to blame for his company's inability to expand and carry the excess traffic turned away for the last five years. Little had been gained from applications made between 1954 and 1960, and there was a limit to the expenditure involved, especially bringing witnesses from Sheffield. The chairman indicated the Corn
missioners had no objection to sitting in Sheffield. Asked if Littlewood had any demand for a Torquay service throughout the year, Mr_ Littlewood said: "None whatever."
The manager of Hansons Buses Ltd., (another objector) Mr. G. Fox, said his company had on three occasions offered to participate in the Pool companies' operations, but without success. He denied that his company was not interested in expansion, or that he was there to say any demand there from the Huddersfield district for a regular through facility to Torquay was unnecessary.
Mr. F. D. Reacroft, of Heaps Tours Ltd. (objecting too), said he had found the demand for holiday traffic to the South-West to be fairly consistent, with no demand for winter or midweek facilities. He was apprehensive about potential traffic and felt any grant would lead to abstraction, especially coupled with unlimited duplication.