Grant for 'computer special'
25th November 1966
Page 34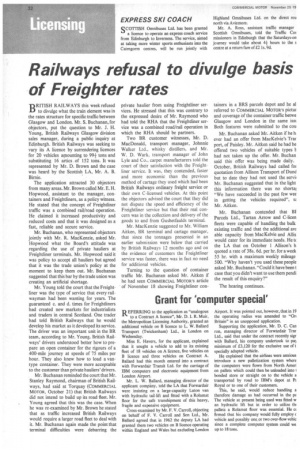 Page 34, 25th November 1966 —
Grant for 'computer special'
Close
REFERRING to the application as "analogous
to a Contract A licence", Mr. D. I. R. Muir, the Metropolitan Licensing Authority, granted an additional vehicle on B licence to L. W. Ballard Transport (Twickenham) Ltd., in London on Wednesday.
Miss E. Havers, for the applicant, explained that it sought a vehicle to add to its existing fleet of 18 vehicles on A licence, five vehicles on B licence and three vehicles on Contract A. Ballard had this month entered into a contract with Forwardair Transit Ltd. for the carriage of IBM computers and electronic equipment from London Airport.
Mr. L. W. Ballard, managing director of the applicant company, told the LA that Forwardair were insisting on a large-capacity Luton van with hydraulic tail-lift and fitted with a Rolamat floor for the safe transhipment of this heavy, fragile and expensive equipment.
Cross-examined by Mr. F. V. Carroll, objecting on behalf of F. V. Carroll and Son Ltd., Mr. Ballard agreed that in 1962 the deputy LA had granted them two vehicles on B licence operating within England and Wales but excluding London Airport. It was pointed out, however, that in 19 the operating radius was amended to "Go Britain" in an unopposed application.
Supporting the application, Mr. D. C. Can ron, managing director of Forwardair Trar Ltd., said that under the contract recently sigr with Ballard, his company undertook to pa3 minimum of £3,120 for the exclusive use oft specially adapted vehicle.
He explained that the airlines were anxious introduce a new palletization system where the computers were flown from North Amer on pallets which could then be unloaded into I bonded store or straight on to the vehicle a transported by road to IBM's depot at Pi Royal or to one of their customers.
This, he said, would reduce handling a therefore damage as had occurred in the ix The vehicle at present being used was fitted w an hydraulic lift but in order to utilize tiv pallets a Rolamat floor was essential. He a firmed that his company would fully employ vehicle and possibly one_or two over-flow vehic since a complete computer system could we up to 18 tons.