Guarded park fails to pay at King's Lynn
25th November 1966
Page 28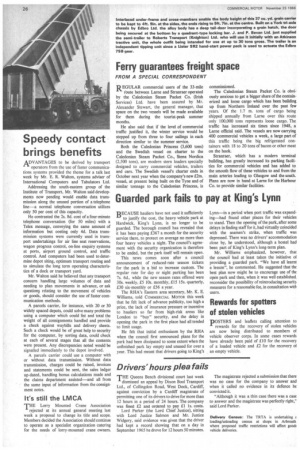 Page 28, 25th November 1966 —
Guarded park fails to pay at King's Lynn
Close
BECAUSE hauliers have not used it sufficiently to justify the cost, the heavy vehicle park at Hardwick, King's Lynn. is no longer to be guarded. The borough council has revealed that it has been paying £367 a month for the security service there, to protect on average no more than four heavy vehicles a night. The council's agreement with the security organization is therefore to be ended, but the park itself will remain open.
This news comes soon after a council announcement of reduced-rate season tickets for the park in a bid to increase custom. The regular rate for day or night parking has been 7s. 6d., while the new season rates offered were 30s. weekly, £5 10s. monthly, £15 15s. quarterly, £30 six-monthly or £56 a year.
The RHA's Eastern area secretary, Mr. K. E. Williams, IOW COMMERCIAL MOTOR this week that he felt lack of advance publicity, too high a price, the lack of insurance pressure or incentive to hauliers so far from high-risk areas like London to "buy" security, and the delay in opening the park in the first place had all tended to limit usage.
He felt that initial enthusiasm by the FtHA when the council first announced plans for the park had been dissipated to some extent when the unfinished park lay empty and unused for over a year. This had meant that drivers going to King's Lynn—in a period when port traffic was expanding—had found other places for their vehicles to stand. Then the opening of the park, after some delays in finding staff for it, had virtually coincided with the seamen's strike, when traffic was depressed. There was no drivers' accommodation close by, he understood, although a hostel had been part of King's Lynn's long-term plan.
Mr. Williams emphasized, however, that the council had at least taken the initiative ol providing a guarded park. "We have all learnt a lesson", he commented. He suggested that the best plan now might be to encourage use of the open park and then, when it was well established. reconsider the possibility of reintroducing security measures for a reasonable fee, in consultation with users.