Ferry guarantees freight space
25th November 1966
Page 28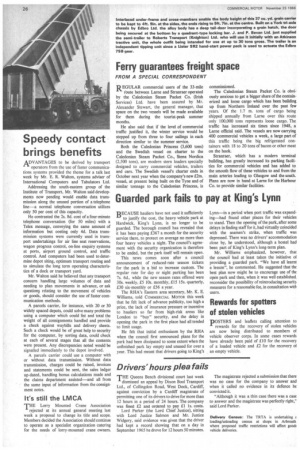 Page 28, 25th November 1966 —
Ferry guarantees freight space
Close
FROM A SPECIAL CORRESPONDENT EGULAR commercial users of the 33-mile route between Larne and Stranraer operated by the Caledonian Steam Packet Co. (Irish Services) Ltd. have been assured by Mr. Alexander Stewart, the general manager, that space on the two vessels will be made available for them during the tourist-peak summer months.
He also said that if the level of commercial traffic justified it, the winter service would be stepped up from three to four sailings in each direction similar to the summer service.
Both the Caledonian Princess (3,600 tons) and the Swedish vessel on charter to the Caledonian Steam Packet Co., Stena Nordica (2,500 tons), are modern stern loaders specially designed to carry commercial vehicles, trailers and cars. The Swedish vessel's charter ends in October next year when the company's new £2m. vessel, at present being built on the Tyne and of similar tonnage to the Caledonian Princess, is commissioned.
The Caledonian Steam Packet Co. is obviously anxious to get a bigger share of the containerized and loose cargo which has been building up from Northern Ireland over the past few years. Of the L7 m. tons of cargo being shipped annually from Lame over this route only 100,000 tons represents loose cargo. The traffic has increased six times since 1948, a Larne official said. The vessels are now carrying 400 commercial vehicles a week, a large part of this traffic being the big refrigerated containers with 18 to 20 tons of bacon or other meat on the hook.
Stranraer, which has a modern terminal building, has greatly increased its parking facilities for commercial vehicles and has added to the smooth flow of these vehicles to and from the main arteries leading to Glasgow and the south. Plans are now in hand at Lame for the Harbour Co. to provide similar facilities.