Spurn faulty lorries, union tells drivers
25th November 1966
Page 27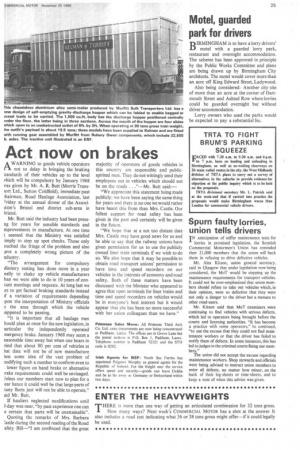 Page 27, 25th November 1966 —
Spurn faulty lorries, union tells drivers
Close
IN anticipation of stiffer maintenance tests for
lorries in promised legislation, the Scottish Commercial Motormen's Union has reminded their 21,000 members that the union will back them in refusing to drive defective vehicles.
Mr. Alex Kitson, union general secretary, said in Glasgow that under legislation now being considered, the MoT would be stepping up the maintenance requirements for transport vehicles. It could not be over-emphasized that union members should refuse to take out vehicles which, in their opinion, were so defective that they were not only a danger to the driver but a menace to other road users.
Mr. Kitson said that MoT examiners . were continuing to find vehicles with serious defects, which led to operators being brought before the courts and licensing authorities. "It has become a practice with some operators," he continued, "to use the excuse that they could not find maintenance workers or that the driver has failed to notify them of defects. In some instances, this has led to judges in the criminal courts fining our members."
The union did not accept the excuse regarding maintenance workers. Shop stewards and officials were being advised to instruct union members to enter all defects, no matter how minor, on the back of their log-sheets or time-sheets, and to keep a note of when this advice was given.