Act now on brakes
25th November 1966
Page 27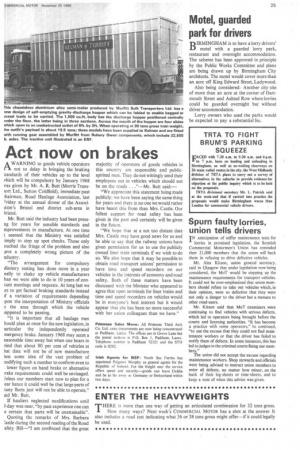 Page 27, 25th November 1966 —
Act now on brakes
Close
AWARNING to goods vehicle operators not to delay in bringing the braking nandards of their vehicles up to the level vhich will be compulsory by January 1968 vas given by Mr. A. R. Butt (Morris Trans)ort Ltd., Sutton Coldfield), immediate past :hairman, Road Haulage Association, last "riday at the annual dinner of the Associnion's Bristol and district sub-area in 3ristol.
Mr. Butt said the industry had been pressng for years for sensible standards and mprovements in manufacture. At one time t seemed that the Ministry was satisfied .imply to step up spot checks. Those only ouched the fringe of the problem and also ;ave a completely wrong picture of the ndustry.
"The arrangement for compulsory vlinistry testing has done more in a year eally to shake up vehicle manufacturers han we were able to do in 10 years of contant meetings and requests. At long last we ire to get factual braking standards instead 1 a variation of requirements depending tpon the interpretation of Ministry officials n the area through which the vehicle iappened to be passing.
"It is important that all haulage men hould plan at once for the new legislation, in mrticular the independently operated mergency brake. January 1968 may seem a easonable time away but when one bears in nind that about 80 per cent of vehicles at hat date will not be of new manufacture hen some idea of the vast problem of nodifying such a number to conform even to . lower figure on hand brake or alternative 'rake requirements could well be envisaged. Jnless our members start now to plan for a .ear hence it could well be that large parts of lany fleets just will not be able to operate," aid Mr. Butt.
If hauliers neglected modifications until )-day was near, "by past experience one can e certain that parts will be unattainable".
Quoting the remarks of Mrs. Barbara ;astle during the second reading of the Road .afety Bill—"I am confinced that the great
majority of operators of goods vehicles in this country are responsible and publicspirited men. They do not wittingly send their employees out in vehicles which should not be on the roads . ."---Mr. Butt said:—
"We appreciate this statement being made publicly: we have been saying the same thing for years and there is no one we would rather have heard this from than Mrs. Castle. Our fullest support for road safety has been given in the past and certainly will be given in the future.
"We hope that at a not too distant date Mrs. Castle may have good news for us and be able to say that the railway unions have given permission for us to use the publicly owned liner train terminals if we wish to do so. We also hope that it may be possible to obtain road transport unions' permission to have time and speed recorders on our vehicles in the interests of economy and road safety. Both of these matters have been discussed with the Minister who appeared to agree that open terminals for liner trains and time and speed recorders on vehicles would be in everyone's best interest but it would appear that she has been no more successful with her union colleagues than we have."
Primrose Sales Move: All Primrose Third Axle Co. Ltd. sales departments are now being concentrated at Padiham. Lancs. The offices are in Grove Lane but the postal address is P.O. Box I. Padiham, Lancs. Telephone number is Padiham 72121 and the STD code is 0282.
Irish Agents for NSF: North Sea Ferries has appointed Palgrave Murphy as general agents for the Republic of Ireland. For the freight user the service offers speed and security—goods can leave Dublin and be as far away as Germany or Switzerland within two days.