Firms set to act at Longbridge
25th November 1966
Page 26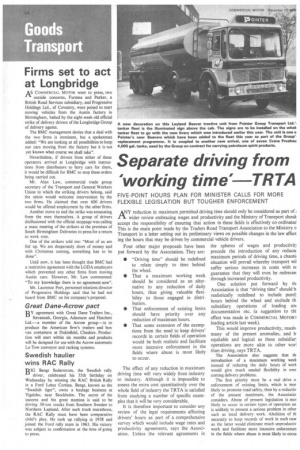 Page 26, 25th November 1966 —
Firms set to act at Longbridge
Close
AS COMMERCIAL MOTOR went to press, two
outside concerns, Furness and Parker, a British Road Services subsidiary, and Progressive Holdings Ltd., of Coventry, were poised to start moving vehicles from the Austin factory in Birmingham, halted by the eight-week-old official strike of delivery drivers of the Longbridge Group of delivery agents.
The BMC management denies that a deal with the two firms is imminent, but a spokesman added: "We are looking at all possibilities to keep our cars moving from the factory but it is not yet known what course we shall take".
Nevertheless, if drivers from either of these operators arrived at Longbridge with instructions from distributors to ferry cars for them, it would be difficult for BMC to stop these orders being carried out.
Mr. Alan Law, commercial trade group secretary of the Transport and General Workers Union to which the striking drivers belong, said the union would welcome intervention by the two firms. He claimed that over 600 drivers would be offered employment by the other firms.
Another move to end the strike was emanating from the men themselves. A group of drivers disillusioned with the official stoppage was calling a mass meeting of the strikers at the premises of South Birmingham Deliveries to press for a return to work vote.
One of the strikers told me: "Most of us are fed up. We are desperately short of money and with Christmas coming, something has to be done".
Until now, it has been thought that BMC had a restrictive agreement with the LGDA employers which prevented any other firms from moving Austin cars. However, Mr. Law commented: "To my knowledge there is no agreement now".
Mr. Laurence Port, personnel relations director of Progressive Holdings said that he had not heard from BMC on his company's proposal.
Great Dane-Acrow pact BY agreement with Great Dane Trailers Inc.,
Savannah, Georgia, Adamson and Hatchett Ltd.—a member of the Acrow group—is to produce the American firm's trailers and box van containers at Dukinfield, Cheshire. Production will start within six months and products will be designed for use with the Acrow automatic Lo-Tow conveyor and racking systems.
Swedish haulier wins RAC Rally
RIG Bengt Soderstrom, the Swedish rally driver, celebrated his 35th birthday on Wednesday by winning the RAC British Rally in a Ford Lotus Cortina. Bengt, known as the "Swedish tiger", owns a haulage business at Vigelsbo, near Stockholm. The secret of his success and his great stamina is said to be driving 30-ton trucks from Southern Sweden to Northern Lapland. After such truck marathons, the RAC Rally must have been comparative child's play. I-1e took up rallying in 1958 and joined the Ford rally team in 1963. His victory was subject to confirmation at the time of going to press.