Who runs the buses?
25th November 1966
Page 25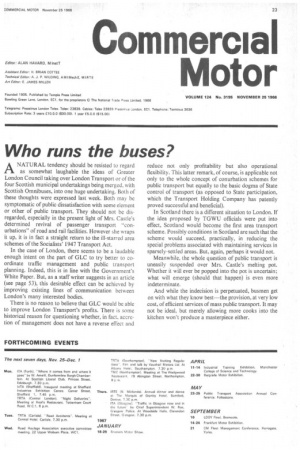 Page 25, 25th November 1966 —
Who runs the buses?
Close
ANATURAL tendency should be resisted to regard as somewhat laughable the ideas of Greater London Council taking over London Transport or of the four Scottish municipal undertakings being merged, with Scottish Omnibuses, into one huge undertaking. Both of these thoughts were expressed last week. Both may be symptomatic of public dissatisfaction with some element or other of public transport. They should not be disregarded, especially in the present light of Mrs. Castle's determined revival of passenger transport "conurbations" of road and rail facilities. However she wraps it up, it is in fact a straight return to the ill-starred area schemes of the Socialists' 1947 Transport Act.
In the case of London, there seems to be a laudable enough intent on the part of GLC to try better to coordinate traffic management and public transport planning. Indeed, this is in line with the Government's White Paper. But, as a staff writer suggests in an article (see page 53), this desirable effect can be achieved by improving existing lines of communication between London's many interested bodies.
There is no reason to believe that GLC would be able to improve London Transport's profits. There is some historical reason for questioning whether, in fact, accretion of management does not have a reverse effect and reduce not only profitability but also operational flexibility. This latter remark, of course, is applicable not only to the whole concept of conurbation schemes for public transport but equally to the basic dogma of State control of transport (as opposed to State participation, which the Transport Holding Company has patently proved successful and beneficial).
In Scotland there is a different situation to London. If the idea proposed by TGWU officials were put into effect, Scotland would become the first area transport scheme. Possibly conditions in Scotland are such that the scheme would succeed, practically, in reducing the special problems associated with maintaining services in sparsely-settled areas. But, again, perhaps it would not.
Meanwhile, the whole question of public transport is uneasily suspended over Mrs. Castle's melting pot. Whether it will ever be popped into the pot is uncertain; what will emerge (should that happen) is even more indeterminate.
And while the indecision is perpetuated, busmen get on with what they know best—the provision, at very low cost, of efficient services of mass public transport. It may not be ideal, but merely allowing more cooks into the kitchen won't produce a masterpiece either.