Objector Says He Pioneered Area
25th November 1955
Page 40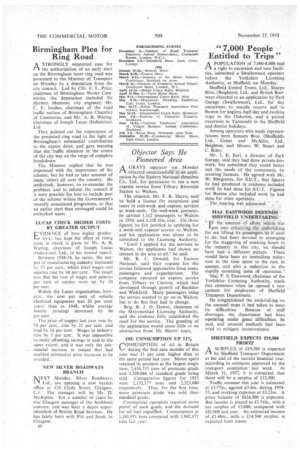 Page 40, 25th November 1955 —
Objector Says He Pioneered Area
Close
AGRAYS ...operator on Monday objected unsucOessfully—to an' application by the Eastern. National Omnibus Co., Ltd., for permission to run -a. new express service from Tilbury Riverside Station to Walton. _ •• The objector, Mr. F. R. Harris, said. he h6.1d . a licence far excursions and tours in mid-week and .express services at week-ends.. On mid-week. journeys, he carried 1,112 passengers to Walton in 1954, and,2,328 this year_ On those figures, he felt justified in applying for a sveek-end expressservice. to Walfon, and his application was about to be' submitted to the Licensing Authority.
" Until I applied for the services to Walton, the applicants had shown no interest in the area at all," he said.
Mr. R. C. Oswald, for Eastern National, said their request for the service followed approaches from many passengers and organizations. The company operated an express service from Tilbury to Clacton, which had developed through growth of Basildon and Wickford. Many passengers using the service wanted to go on to Walton, but to do this they had to change.
Brig. R. J. 0. Dowse, chairman of the Metropolitan Licensing Authority, said the evidence fully established the need for the service. The granting of the application would cause little or no abstraction from Mr. Harris' tours.
OIL CONSUMPTION UP "11% r'ONSUMPTION of oil in Britain '—•• during the first nine months of this year was 11 per cent. higher than in the same period last year. Motor spirit retained its position as the largest single item, 2.416,312 tons of premium grade and 2,328,066 of standard grade being sold. Comparative figures for 1955 were 2,132,377 tons and 2,323.680 respectively. Thus, for the first time, more premium grade was sold than standard grade.
Commercial operators required more petrol of each grade, and the demand for oil fuel exparZed. Consumption at 1,181,971 tons compared with 1,042.671 tons last year.