Remover Loses Second Appeal
25th November 1955
Page 36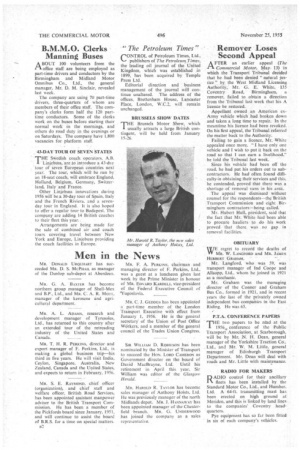 Page 36, 25th November 1955 —
Remover Loses Second Appeal
Close
AFTER an earlier appeal (The Commercial Motor, May 13) in which the Transport Tribunal decided that he had been denied "natural justice' by the West Midland Licensing Authority, Mr. G. E White, 135 Coventry Road, Birmingham, a remover, failed to obtain a direction from the Tribunal last week that his A licence be restored.
Appellant owned an American exArmy vehicle which had broken down and taken a long time to repair. In the meantime his licence had been revoked. On his first appeal, the Tribunal referred the matter back to the Authority.
Failing to gain a licence, Mr. -White appealed once more. "I have only one vehicle and I wish to put it back on the road so that I can earn a livelihood," he told the Tribunal last week. Since his vehicle had been off the road, he had put his orders out to subcontractors. He had often found difficulty.in obtaining their services and this, he contended, proved that there was a shortage of removal vans in his area. The appeal was dismissed without counsel for the respondents—the British Transport Commission and eight Birmingham contractors—being called. Mr. Hubert Hull, president, said that the fact that Mr. White had been able to procure hauliers to .do his work proved that there, was no gap in removal facilities.
OBITUARY
WE regret to record the deaths of M. W. LANGFORD and MR. JAMES HERBERT GRAHAM.
Mr. Langford, who was 59, was transport manager of Ind Coope and Allsopp, Ltd., whom he joined in 1921 as a mechanic.
Mr. Graham was the managing director of The Conner and Graham Bus Co., formed in 1921. and in recent years the last of the privately owned independent bus companies in the East Riding. He was 65.
P.T.A. CONFERENCE PAPERS
THE two papers to be rdad at the 1956 conference of the Public Transport Association, at Scarborough, will be by Mr. N. H. Dean, general manager of the Yorkshire Traction Co., Ltd., and Mr. W. M. Little, general manager of Edinburgh Transport Department. Mr. Dean will deal with roads and Mr. Little with maintenance.
RADIO FOR MAKERS
D ADIO control for their ancillary irt fleets has been installed by the Standard Motor Co., Ltd., and Humber. Ltd. A 64-ft. transmitting mast has been erected on high ground at Meriden. and this is linked by land lines to the companies' Coventry head
quarters. ..
Pye equipment has so far been fitted in six of each company's vehicles.