Scottish Omnibuses Leaving Rospa
25th November 1955
Page 34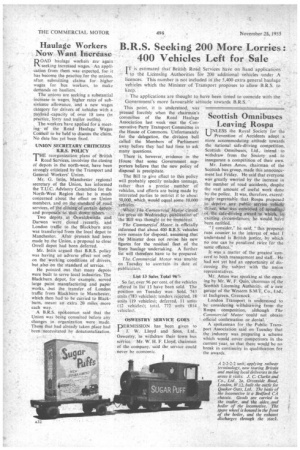 Page 34, 25th November 1955 —
Scottish Omnibuses Leaving Rospa
Close
UNLESS the Royal Society for the Prevention of Accidents adopt a more accommodating attitude towards the national safe-driving competition, Scottish Omnibuses, Ltd., intend to withdraw from the Society and to inaugurate a competition of their own. Mr. James Amos. chairman of the Scottish bus group, made this announcement last Friday. He said that everyone was greatly worried by the increase in the number of road accidents, despite the vast amount of useful 'work done by the police. It was, therefore, exceedingly regrettable that Rospa proposed to deprive any public service vehicle driver. who was convicted of speeding, of the safe-driving award An which, in existing circumstances, he would lia%—t been entitled.
"I consider." he said; "this proposal runs counter to the interest of what I understand is British justice, by which no one can be penalized twice for the same offence."
It was a matter of the greatest concerti to both management and staff.. He had not yet had an opportunity of discussing the 'subject with •the union representatives. .
Mr. Amos was speaking at the opening hy Mr. W. F. Quin, chairman of, the Scottish Licensing Authority, of a new garage of the Western Co., Ltd., at Inchgreen, Greenock. • London Transport is understood to be considering withdrawing from the Rospa competition, although The Commercial Motor could not obtain
official confirmation or denial.
A spokesman for the Public Transport Association said on Tuesday that the industry was preparing a scheme which would cover competitors in the current year, so that there would be no break in continuity in qualification for the awards.