One Hears
25th November 1955
Page 33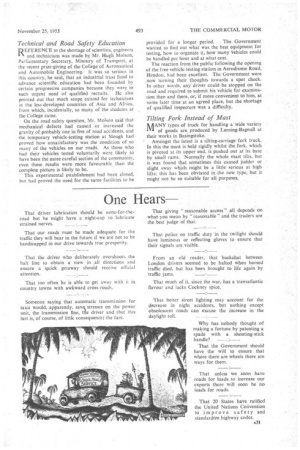 Page 33, 25th November 1955 —
One Hears
Close
That driver lubrication should be none-for-theroad but he might have a night-cap to lubricate strained nerves. _ That our roads must be made adequate for the traffic they will bear in the future if we are not to be handicapped in our drive towards true prosperity.
That the driver who deliberately overshoots the halt line to obtain a view in All directions and ensure a quick getaway should receive official attention.
That too often he is able to get away with it country towns with awkward cross-roads.
Someone saying that automatic transmission for taxis would, apparently, save% stresses on the power unit, the transmission line, die driver and (but this last is, of course, of little consequence) the fare. That giving "reasonable access" all depends on what you mean by " reasonable " and the traders are the best judge of that.
That police on traffic duty in the twilight should have luminous or reflecting gloves to ensure that their signals are visible.
From an old reader, that backchat between London drivers seemed to be halted when horsed traffic died, but has been brought to life again by traffic jams.
in That much of it, since the war, has a transatlantic flavour and lacks Cockney spice.
That better street lighting may account for the decrease in night accidents, but nothing except obsolescent roads can excuse the increase in the daylight toll.
Why has nobody thought of making a fortune by patenting a spade with a shooting-stick handle?
That the Government should have the will to ensure that where there are wheels there are ways for them.
That unless we soon have roads for loads to increase our exports there will soon be no loads for roads.
That 20 States have ratified the United Nations Convention to improve safety and standardize highway codes.