Would Tunnels Help?
25th November 1955
Page 32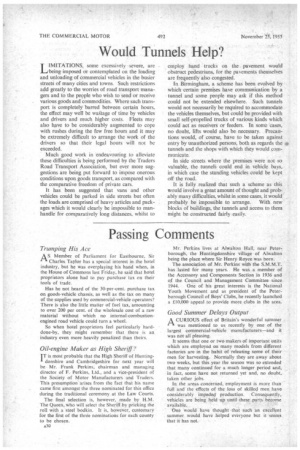 Page 32, 25th November 1955 —
Would Tunnels Help?
Close
I IMITATIONS, some excessively severe, are L./being imposed Or contemplated on the loading and unloading of commercial vehicles in the busier streets of many cities and towns. Such restrictions add greatly to the worries of road transport managers and to the people who wish to send or receive various goods and commodities. Where such transport is completely barred between certain hours, the effect may well be wastage of time by vehicles and drivers and much higher costs. Fleets may also have to be considerably augmented to cope with rushes during the few free hours and it may be extremely difficult to arrange the work of the drivers so that their legal hours will not he exceeded.
Much good work in 'endeavouring to alleviate these difficulties is being performed by the Traders Road Transport Association, but ever more suggestions are being put forward to impose onerous conditions upon goods transport, as compared with the comparative freedom of private cars.
It has been suggested that vans and other vehicles could be parked in side streets but often the loads are comprised of heavy articles and packages which it would clearly be impossible to manhandle for comparatively long distances, whilst to employ hand trucks on the pavement would obstruct pedestrians, for the pavements themselves are frequently also congested.
In Birmingham, a scheme has been evolved by which certain premises have communication by a tunnel and some people may ask if this method could not be extended elsewhere. Such tunnels would not necessarily be required to accommodate the vehicles themselves, but could be provided with small self-propelled trucks of various kinds which could act as receivers or feeders. In some cases, no doubt, lifts would also be necessary. Precautions would, of course, have to be taken against entry by unauthorized persons, both as regards the tunnels and the shops with which they would communicate.
In side streets where the premises were not so valuable, the tunnels could end in vehicle bays, in which case the standing vehicles could be kept off the road.
ft is fully realized that such a scheme as this would involve a great amount of thought and probably many difficulties, whilst in some cases, it would probably be impossible to arrange. With new blocks of buildings, the tunnels and access to them might be constructed fairly. easily.