USEFUL EXPERIMENT WITH AN OIL-ENGINED BUS.
25th November 1932
Page 61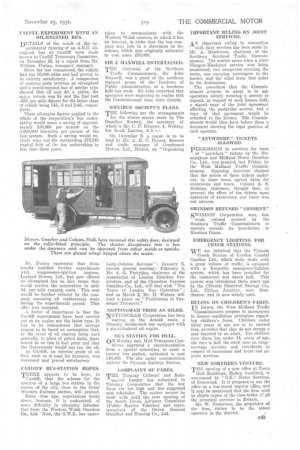 Page 61, 25th November 1932 —
USEFUL EXPERIMENT WITH AN OIL-ENGINED BUS.
Close
DETAILS of the •result of the ex perimental running of an A.E.C. onengined bus at Cardiff were made known to Cardiff Tramways Committee, on November 18, by a report from Mr. William Forbes, transport manager.
Since the test commenced, the vehicle had run 36,000 miles and had proved to be entirely satisfactory. A comparison of running costs between an oil-engined and a petrol-engined bus of oimilar type showed that oil cost 4d. a gallon, the m.p.g. return was 9i. and the fuel cost .42d. per mile, figures for the latter class of vehicle being 14d., 6 and 2.4d., respectively.
These oil-engine figures applied to the whole of the corporation's bus undertaking would mean a saving of approximately £30,000 per annum on the 4,000,090 bus-miles per annum of the bus system. Such a saving would entirely wipe out the outstanding £76,245 capital debt of the bus undertaking in less than three years.
Mr. Forbes contended that these results justified further experiments with compression-ignition engines. Leyland Motors, Ltd., had now offered an oil-engined bus on hire terms that would involve the corporation in only id. per mile running costs. This cost would be further reduced by the company assuming all replacement costs during the experimental period. This offer was accepted.
A factor of importance is that the Cardiff experiments have been carried out on an engine not the latest type. It has to be remembered that savings appear to be based on assumption that, in the event of oil engines being used generally, in place of petrol units, there would be no rise in fuel price and that the Government would not tax the oil.
At Cardiff, an inferior grade of oil fuel, such as is used for furnaces, was consumed and proved satisfactory.
CARDIFF BUS-STATION HOPES.
THERE appears to be hope, in Cardiff, that the scheme for the erection of a large bus station in the centre of the city, close to the Great Western Railway station, will proceed.
Some time ago, negotiations broke down, because, it is understood, of some difficulty in obtaining information from the Western Welsh Omnibus Co., Ltd. Now, the G.W.R. has under taken to communicate with the Western Welsh concern, in which it has an interest, in order that the bus company may join in a discussion on the Scheme, which was originally estimated to cost some £90,000.
SIR J. MAXWELL ENTERTAINED.
THE chairman of the Northern Traffic Commissioners, Sir John Maxwell, was a guest• of the northern regional group of the Institute of Public Administration, at a luncheon held last week. Sir John remarked that operators were beginning to realize that the Commissioners were their friends.
OMNIBUS SOCIETY'S PLANS. THE following are the arrangements
for the winter season made by The Omnibus Society, the secretary of which is Mr. C. P. mapper, 4, Wellingion Road, London, E.3.
On December 9, a paper is to be read by Mr. A. E. C. Bryant, director and traffic manager of Greyhound Motors, Ltd., Bristol, on "Organizing
Long-distance Services"; January 6, annual general meeting; February 3, Mr. A. G. Partridge, chairman of the Association of London Omnibus Proprietors, and of the Chocolate Express Omnibus Co., Ltd., will deal with "Pen Years of London Bus Operation " ; and on March 2, Mr. H. Watson will read a paper on "Preferences in Passenger Transport."
NOTTINGHAM TRIES AN OILER. NOTTINGHAM Corporation has been testing, on the Arnold route, a Crossley double-deck bus equipped with a six-cyLindered oil engine.
BUS STATION FOR HULL. ON Monday last, Hull Transport Com
mittee approved a recommendation from a special committee to erect a central bus station, estimated to cost .E40,465. The site, under consideration adjoins the Paragon Railway Station.
COMPLAINT OF FARES.
THE Torquay Citizens' and Rate
'payers' League has submitted to Torquay Corporation that the bus fares are too high and has suggested new schedules. The matter cannot be dealt with until the next meeting of the South Devon Advisory Committee (Public Service Vehicles) and representatives of the Devon General Omnibus and Touring Co., Ltd.
IMPORTANT RULING ON JOINT SERVICES.
AN important ruling in connection with joint services has been made by Mr. A. Henderson, chairman of the Southern Scotland Traffic Commissioners. The matter arose when a joint Glasgow-Blackpool service was being considered, two companies covering the route, one carrying passengers to the border, and the other from that point to the destination.
The procedure that the Commissioners propose to adopt is to ask operators jointly covering a service to deposit, in respect of each licence held, a signed copy of the joint agreement affecting the particular service, and a copy of that agreement would be attached to the licence. The Commissioners would then have before them a document showing the legal position of each operator.
"ANYWHERE" TICKETS ALLOWED.
pERMISSION to continue the issue
of " anywhere " tickets by the Birmingham and Midland Motor Omnibus Co., Ltd., was granted, last Friday, by the West Midland Traffic Commissioners. Opposing interests claimed that the prices of these tickets undercut, in some cases, agreed fares for excursions and tours. Colonel A. S. Redman, chairman, thought that, at present, the effect of the tickets upon operators of excursions and tours was not adverse.
SWLNTDON REFUSED "CONSENT."
SWINDON Corporation was, last week, refused consent by the Southern Traffic Commissioners to operate outside its boundaries, to Stratton Green.
EMERGENCY LIGHTING FOR COACH STATIONS.
WE are informed that the Victoria Coach Station of London Coastal Coaches Ltd., which daily deals with a great volume of traffic, is equipped with a Keepalite emergency-lighting system, which has been installed for the restaurant and dance hall. This system was introduced three years ago by the Chloride Electrical Storage Co., Ltd., Clifton Junction, near Manchester, and is now widely used.
RULING ON CHILDREN'S FARES. IN future, the West Midland Traffic Commissioners propose to incorporate in licence conditions provisions regarding children's fares. Children under three years of age are to be carried free, provided that they do not occupy a seat required by an adult. For children over three, but under 14, years of age, the fare is half the adult rate on. stagecarriage services and two-thirds in respect of excursions and tours and express services.
NEW NORTHERN VENTURE. THE opening of a new office at Town
Hall Buildings, Bishop Auckland, is announced by " O.K." Motor Services, of Evenwood. It is proposed to use the office as a bus-travel inquiry office, and it may be mentioned that the firm wish to obtain copies of the time-tables o all the principal services in Britain. Mr. W. Fromerson, the proprietor of the firm, claims to be the oldest operator in the district.