Road Transport Activities
25th November 1932
Page 53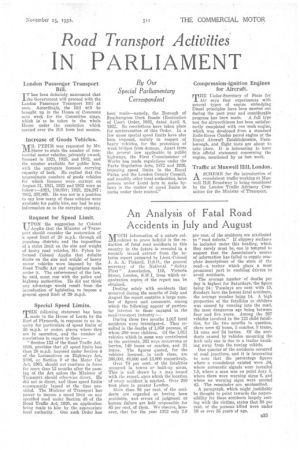 Page 53, 25th November 1932 —
Road Transport Activities
Close
IN PARLIAMENT
By Our Special Parliamentary Correspondent
London Passenger Transport Bill.
IT has been definitely announced that the Government will proceed with the London Passenger Transport Bill at once. Accordingly, the Bill will be brought up in the House of Commons next week for the Committee stage, which is' to be taken in the whole House under the resolution which carried over the Bill from last session.
Increase of Goods Vehicles.
R.IVItatPeIr BUtosStawtealereclnuumesber obfycoMmr. R.IVItatPeIr BUtosStawtealereclnuumesber obfycoMmr.
mercial motor vehicles privately owned, licensed in 1921, 102, and 1932, and the number available for public hire, with the aggregate licensed carrying capacity of both. He replied that the approximate numbers of goods vehicles for which licences were current on August 31, 1921, 1925 and 1932 were as follow :--1921, 180,850; 1925, 224,287; 1982, 357,068. He was not in a position to say how many of these vehicles were available for public hire, nor had he any information as to the carrying capacity.
Request for Speed Limit.
TTPON the suggestion by Colonel Applin that the Minister of Transport should consider the restoration of a speed limit of 20 m.p.h. through all populous districts and the imposition of a strict limit on the size and weight of heavy road vehicles, Mr. Pybus informed Colonel Applin that definite limits on the size and weight of heavy motor vehicles were imposed by the Road Traffic Act and regulations made under it. The enforaement of the law, he said, must rest with the police and highway authorities. He did not think any advantage would result from the introduction of legislation to impose a general speed limit of 20 m.p.h.
Special Speed Limits.
THE following statement has been 1 made in the House of Lords by the Earl of Plymouth, in response to an inquiry for particulars of speed limits of 80 m.p.h. or under, places where they are in operation, and the number of convictions in regard to them :—
" Section 122 of the Road Traffic Act, 1930, provides that all speed limits less than 20 m.p.h. imposed under Section 4 of the Locomotives on Highways Act, 1896, or Section 9 of the Motor Car Act, 1903, should not continue in force for more than 12 months after the passing of the Act unless the Minister of Transport should otherwise direct. He did not so direct, and those speed limits ' consequently lapsed at the -time provided. The Minister of Transport has power to impose a speed limit on any specified road under Section 46 of the Road Traffic Act, 1930, on application being made to him by the appropriate local authority. One such Order has
been made—namely, the Borough of Southampton Dock Roads (Restriction of User) Order, 1932, dated April 8, 1932. No convictions have taken place for contravention of this Order. In a few cases special speed limits have also been imposed, mainly in respect of heavy vehicles, for the protection of weak bridges from damage. Apart from the general law applicable to public highways, the First Commissioner of Works has made regulations under the Parks Regulation Acts, 1872 and 1926, imposing speed limits in the Royal Parks, and the London County Council, and possibly other local authorities, have powers under Local Acts to make bylaws in the matter of speed limits in parks under their control." Compression-ignition Engines for Aircraft.
MITE Under-Secretary of State for .1 Air says that experiments with several types of engine embodying Diesel principles have been carried out during the past year and considerable progress has been made. A full type test for airworthiness has been satisfactorily completed with one such engine, which was developed from a standard Rolls-Royce Condor petrol engine at the Royal Aircraft Establishments, Farnborough, and .flight tests are about to take place. It is interesting to have this official statement concerning the engine, mentioned by us last week.
Traffic at Muswell Hill, London.
A SCHEME for the introduction of roundabout traffic working at Muswell Hill Broadway is being considered by the London Traffic Advisory Committee for the Minister of Transport.