WHERE TO FIND HAULAGE BUSINESS
25th November 1932
Page 47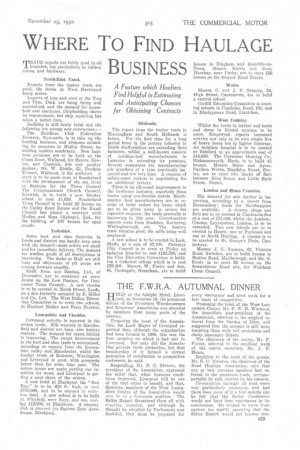 Page 47, 25th November 1932 —
WHERE TO FIND HAULAGE BUSINESS
Close
A Feature which Hauliers Find Helpful in Estimating and Anticipating Chances for Obtaining Contracts
TRADE reports are fairly good in all branches, but particularly in timber, c-otton and hardware.
North-East Coast.
Reports from the timber trade are good, the docks at West Hartlepool being active.
Imports of iron and steel at the Tees and Tyne Dock are being fairly well maintained, and the demand for household coal continues. Shipbuilding shows no improvement, but ship repairing has taken a better turn.
Building is still fairly brisk and the following are among new enterprises :—
The Northern Club Federation Brewery, Newcastle, is to take up the bottling business, and proposes extending its premises in Hedley Street, installing modern machinery. New business premises are to be built on the Coast Road, Wallsend, for Messrs. Newton and Capstick, fish and poultry dealers ; Mr. W. Riddle, 53, Denham Terrace, Wallsend, is the architect. A start is to be made soon at Sunderland -with the development of the sea front at Seaburn for the Town Council The Congregational Church Council, Keswick, is to build a new Sunday school to cost £1,650. Sunderland Town Council is to build 22 houses on the Carley Road Estate and the Rural Council has placed a contract with Hedley and Sons (Ryhope), Ltd., for the building of 100 houses for aged people.
Yorkshire.
Some boot and shoe factories in Leeds and district can hardly keep pace with the demand : most orders are small and for immediate delivery. The demand for woollen goods of all descriptions is improving. The docks at Hull are still busy and shipments of pit props are coming forward steadily.
Swift Bros. and Maslen], Ltd., of Doncaster, are to construct an aerodrome on the Low Pasture, for Doncaster Town Council. A new cinema is to be erected In North Street, Leeds, on a site formerly occupied by E. Miller and Co., Ltd. The West Riding Education Committee is to erect two schools, at Hoyland Nether and Ferry Fryston.
Lancashire and Cheshire.
Increased activity is reported in the cotton trade. Silk weavers in Macclesfield and district are busy, also hosiery makers. The demand for rayon fabrics is improving. The recent improvement in the boot and shoe trade is maintained, according to reports from the Itossendale valley and Manchester, whilst the leather trade of Runcorn, Warrington and Liverpool is good, with prospects better than for some time past. The cotton towns are again putting out inquiries for wood, and Liverpool is getting a good share of the orders.
A new hotel at Blackpool, the "Sun Ray," is to be 420 ft. high, to cost £750,000, and to be encased in stainless steel. A new school is to be built at Whitfield, near Bury, and one, costing £12,000, at Blackburn. A country club is planned for Squires Gate Aerodrome, Blackpool. Midlands.
The report from the timber trade in Birmingham and South Midlands is better. For the first time for a long period firms in the pottery industry in North Staffordshire are extending their factories, whilst a well-known concern of machine-tool manufacturers in Leicester is extending its premises. Several companies are manufacturing gilt jewellery of a type previously imported and are very busy. A concern of safety-razor makers is negotiating for an additional factory.
There is an all-round improvement in the hardware industry, especially those trades using non-ferrous metals. Northampton boot manufacturers are in receipt of large orders for boots which are to be given away in return for cigarette coupons ; the trade generally is Improving in this area. Corroborative reports come from Rushden, Kettering, Wellingborough, etc. The hosiery trade remains good, the mills being well employed.
A new school is tolse"erected in Leek, Staffs, at a cost of £7,100. Coventry City Council is to erect at Pinley an Isolation hospital to cost £123,500, and the City Education Committee is building a technical college which is to cost £76,400. Messrs. W. Foster and Son, 41, Castlegate, Grantham, are to build houses in Bingham and Radcliffe-onTrent. Messrs. Harris and dons, Marehay, near Derby, are to erect 156 houses on the Heanor Road Estate.
Wales.
Messrs. G. and J. P. Gregory, 24, High Street, Caernarvon, are to build a central school.
Cardiff Education Committee is erecting schools in Cambrian Road, Ely, and in Rhydyponau Road, Llanithen.
West Country.
Whilst the trade in leather and boots and shoes in Bristol appears to be quiet, Kingswood reports increased activity not only in its own staple line of heavy boots but in lighter footwear. An isolation hospital is to be erected at Bideford at an approximate cost of £14,000. The Universal Housing Co., Rickmansworth, Herts, is to build 42 houses. Messrs. Soper and Ayers, Pavilion Works, Magdalen Street, Exeter, are to erect two blocks of fiats between King Street and Little Rack Street, Exeter.
London and Home Counties.
The demand for sole leather is improving, according td a report from Bermondsey ; loads for Northampton are available. A cinema, shops and fiats are to be erected at Clacton-on-Sea at a cost of £27,000, whilst the Academy Cinema, Leytonstone, London, is to be extended. Two new schools are to be erected in Hunts; one at Purbrook and one at South Rayling. A cinema is to be erected in St. George's Plain, Canterbury.
Messrs. J. G. Norman, 62, Victoria Road, Swindon, are to build houses in Station Road, Marlborough, and Mr. G. Ferdy is to erect 62 houses on the Sewardstone Road site, for Waltham Cross Council.
Tags
Locations
:
Manchester
,
Bury
,
Exeter
,
Hartlepool
,
Canterbury
,
Leeds
,
London
,
Leicester
,
Birmingham
,
South Midlands
,
Derby
,
Liverpool
,
Bristol
,
Sunderland
,
Newcastle