MUNICIPAL PURCHASES AND PROPOSALS
25th November 1932
Page 42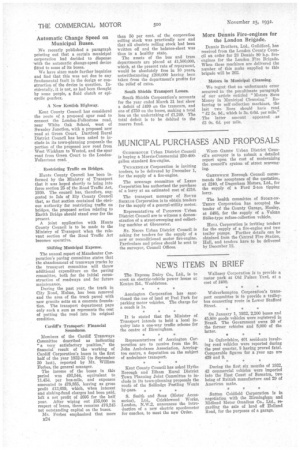 Page 42, 25th November 1932 —
MUNICIPAL PURCHASES AND PROPOSALS
Close
GUISBOROUGH Urban District Council is buying a Morris-Commercial 250-400gallon standard fire-engine.
TWICKENHAM Corporation is inviting tenders, to be delivered by December 1, for the supply of a fire-engine.
The sewerage committee of LEEDS Corporation has authorized the purchase of a lorry at an estimated cost of 1210.
The transport manager of SOUTH Suritos Corporation is to obtain tenders for the supply of a general-utility motor.
Representatives of PAIGNTON Urban District Council are to witness a demonstration of a street-sweeping and collecting machine at Gloucester.
Sr. NEOTS Urban District Council is asking for tenders for the supply of a new or reconditioned motor fire-engine. Particulars and prices should be sent to the surveyor, Council Offices. Woon GREEN Urban District Council's surveyor is to submit a detailed report upon the cost of modernizing the council's system of street scavenging.
GREENWICH Borough Council recommends the acceptance of the quotation, at £240, of Dagenham Motors, Ltd., for the supply of a Ford 2-ton tipping lorry.
The health committee of STOKE-ONTRENT Corporation has accepted the tender of the County Garage, Hanley, at £493, for the supply of a Vulcan Stoke-type refuse-oollection vehicle.
Hurt. Corporation is inviting tenders for the supply of a fire-engine and two trailer pumps. Further details can be obtained from the Central Fire Station, Hull, and tenders have to be delivered by December 12.