Dennis Brothers' Good Profit.
25th November 1932
Page 40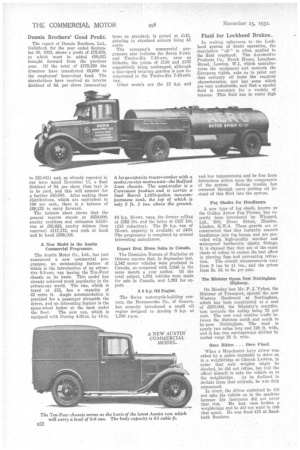 Page 40, 25th November 1932 —
Dennis Brothers' Good Profit.
Close
The report of Dennis Brothers, Ltd., Guildford, for the year ended September 30, 1932, shows a profit of £79,638, to which must be added £99,621 brought forward from the previous year. Of the total of £179,259 the directors have transferred £5,000 to the employees' benevolent fund. The shareholders have received an interim dividend of 4d. per share (amounting to 125,041) and, as already reported in our issue dated November 11, a final dividend of 8d. per share (less tax) is to be paid, and this will account for a further £50,083. After making these distributions, which are equivalent to 100 per cent., there is a balance of £99,135 to carry forward.
The balance sheet shows that the general reserve stands at £650,000, sundry creditors and estimated liabilities at £95,633, sundry debtors (less reserves) 1117,172, and cash at bank and in hand £209,108.
A New Model in the Austin Commercial Programme.
The Austin Motor Co., Ltd., has just announced a new commercial programme, an outstanding feature of which is the introduction of an attractive 6-8-cwt. van having the Ten-Four chassis as its basis. This model has already achieved much popularity in the private-car world. The van, which is taxed at £15, has a capacity of 63 cubic ft. Ample accommodation is provided for a passenger alongside the driver, and an interesting feature is the spare-wheel locker at the back under the floor. The new van, which is equipped with Dunlop 4.50-in. by 18-in. tyres as standard, is priced at £145, painting in standard colours being £5 extra.
The company's commercial programme also includes the Seven 5-cwt. and Twelve-Six 7-10-cwt. vans as hitherto, the prices of 1110 and £185 respectively being unchanged, although a four-speed twin-top gearbox is now incorporated in the Twelve-Six 7-10-cwt. van.
Other models are the 12 h.p. and
A large-capacity tractor-tanker with a moder a te-size motive unit—the Bedford 2.ton chassis. The semi-trailer is a Carrimore product and it carries a Steel Barrel 1,000-gallon two-corn' partment tank, the top of which is only 5 ft. 3 ins, above the ground.
16 h.p. 10-cwt. vans, the former selling at £292 10s. and the latter at 1327 10s. (15 reduction). The 20 h.p. van of 15-cwt. capacity is available at £405. The programme is completed by several interesting ambulances.
Export Beat Home Sales in Canada.
The Dominion Bureau of Statistics at Ottawa reports that, in September last, 2,342 motor vehicles were produced in Canada, as compared with 2,646 in the same month a year earlier. Of the total output, 1,081 vehicles were made for sale in Canada, and 1,261 for export.
A 6 h.p. Oil Engine.
The Swiss motorcycle-building concern, the Motosacoche Co., of Geneva, has recently introduced a small oil engine designed to develop 6 h.p. at 1,200 r.p.m.
Fluid for Lockheed Brakes.
In making references to the Lockheed system of brake operation, the description " oil " is often applied to the fluid employed. The Automotive
Products Co. Brock House, Laugh-amStreet, London, W.1, which manufac
tures the equipment and controls the European rights, asks us to point out that ordinary oil lacks the required characteristics, and has some which are very undesirable, and that a special fluid is necessary for a variety of reasons. This fluid has to resist high and low temperatures, and be free from deleterious action upon the components of the system. Serious trouble has occurred through users putting oil instead of this fluid into the system.
Fog Shades for Headlamps.
A new type of fog shade, known as the Golden Arrow Fog Piercer, has recently been introduced by Wiugard, Lid., 200, Brent Street, Hendon, London, N.W.4. These guards are so constructed that they instantly convert headlamps into fog lamps, and are provided with high-quality weather and waterproof leatherette elastic fittings. It is claimed that they are of the exact shade of colour to ensure the best effect in piercing fogs and preventing refraction. The overall measurements vary. from 5 ins. to 11 ins., and the prices from 2s. 3d. to Os. per pair.
The Minister Opens New Nottingham Highway.
On Monday last Mr. P. J. Pybus, the Minister of Transport, opened the new Western Boulevard at Nottingham, which has been constructed at a cost of £250,000, the Ministry's contribution towards the outlay being 75 per cent. The new road enables traffic between the districts north and south to by-pass Nottingham. The road is nearly two miles long and 120 ft. wide, and it has two carriageways divided by turfed verge 28 ft. wide.
Once Bitten . . . Once Fined.
When a Manchester lorry driver was asked by a police constable to drive on to a weighbridge at Church Lawton, in order that axle weights might be • checked, he did not refuse, but told the officer himself to take the vehicle on to the weighbridge. As he declined to deihate from that attitude, he was duly summoned.
In court, the driver explained he did not take his vehicle on to the machine because his insurance did not cover that risk. He had once broken a weighbridge and he did not want to risk that again. lie was fined £15 at Sandbach Sessions.