Another Guard-rail Concession.
25th November 1932
Page 39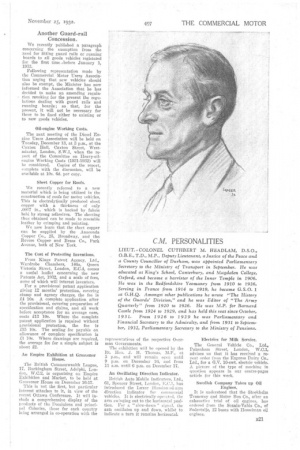 Page 39, 25th November 1932 —
Another Guard-rail Concession.
Close
We recently published a paragraph concerning the exemption from the need for fitting guard rails or running boards to all goods vehicles registered for the first time.-before January 1, 1933.
Following representation made by the Commercial Motor Users Association urging that new vehicles should also be exempt, the Minister has now informed the Association that he has decided to make an amending regulation revoking for the present the regulations dealing with guard rails and running boards; so that, for the present, it will not be necessary for these to be fixed either to existing or to new goods vehicles.
Oil-engine Working Costs.
The next meeting of the Diesel Engine Users Association will be held on Tuesday, December 13, at 3 p.m., at the Caxton Hall, Gaxton Street, Westminster, London, S.W.1, when the report of the Committee on Heavy-oilengine Working Costs (1931-1932) will be considered. Copies of the report, complete with the discussion, will be available at 10s. 6d. per copy.
Sheet Copper for Roofs.
We recently referred to a new material which is being utilized in the construction of roofs for motor vehicles. This is electrolytically produced sheet copper with a thickness of only .0017 in., " which is backed by fabric held by strong adhesives. The sheeting thus obtained can be made to resemble leather by crimping and painting.
We now learn that the sheet copper can ho supplied by the Anaconda Copper Co., 25, Broadway, and the neVOr0 Copper and Brass Co., Park Avenue, both of New York.
The Cost of Protecting Inventions.
From Kings Patent Agency, Ltd., Wardrobe Chambers, 146a, Queen Victoria Street, London, E.C.4, comes a useful leaflet concerning the new Patents Act, 1932, and a scale of fees, some of which will interest inventors.
For a provisional patent Application giving 12 months' protection, covering stamp and agency charges, the fee is £4 108. A complete application after the provisional, covering preparation of specification and claims, and all work before acceptance for an average case, costs £13 108. Where the complete patent application is required without provisional protection, the fee is £15 10s. The sealing fee payable on allowance of complete specification is £1 10s. Where drawings are required, the average fee for a simple subject is about £2.
An Empire Exhibition at Grosvenor House.
The British Commonwealth League, 17, Buckingham Street, Adolphi,, London, W.C.2, is organizing au Empire Exhibition and Market, to be held at Grosvenor House on December 16-17.
This is not the first, but particular interest attaches to it, in view of the recent Ottawa Conference. It will include a comprehensive display of the products of the Dominions and principal Colonies, those for each country being arranged in co-operation with the representatives of the respective Overseas Governments, The exhibition will be opened by the Rt. Hum J. H. Thomas, M.P., at 8 p.m., and will remain, open until 9 p.m. on December 16, and from 11 a.m. until 6 p.m. on December 17,.
An Oscillating Direction Indicator.
British Auto Mobile Indicators, Ltd., 61, Spencer Street, London, E.C.1, has introduced the Luxor illtunioned-arm direction indicator for commercial vehicles. It is electrically operated, the arm swinging out to the horizontal position. For a " slow-down " signal, the arm oscillates up and down, whilst to Indicate a turn it remains horizontal. Eleetries for Milk Service.
The General Vehicle Co., Ltd., Pakenharri Street, London, W.C.1, advises us that it has received a repeat order from the Express Dairy Ocr., Ltd., for a G.V. 10-cwt. electric vehicle. A picture of the type of machine in question appears in our centre-pages article for this week.
Swedish Company Takes up Oil Engines.
• It is understood that the ,Stockholm TramwaY and Motor Bus Co., after an exhaustive trial of oil engines. has ordered from the Scania-Vabis Co., of Sodertalje, 12 buses with Hesselman oil engines.