Motor Traffic in Berlin and Germany.
25th November 1915
Page 6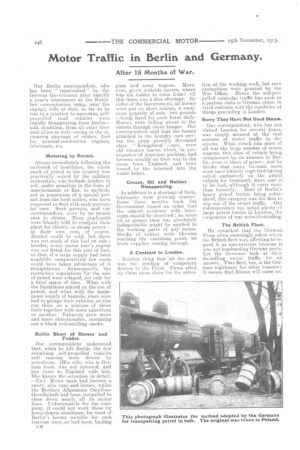 Page 6, 25th November 1915 —
Motor Traffic in Berlin and Germany.
Close
After 15 Months of War.
Our Berlin correspondent, who has been " repatriated" by the German Government after exactly a year's internment at the Ruhleben. concentration camp, near the capital, tells us that, so far as he was in a position to ascertain, selfpropelled road vehicles were rapidly disappearing from Berlin— and, doubtless, from all other German cities as well—owing to the increasing shortage of rubber, fuel for internal-combustion engines, lubricants, etc.
Motoring by Permit.
Almost immediately following the outbreak of hostilities, the whole stock of petrol in the country was practically seized by the military authorities, who forbade holders to sell, under penalties in the form of imprisonment or fine, to anybody not in possession of a special permit from the local police, who were supposed to deal with each particular case. Such permits, said cur correspondent, were by no means easy to obtain. Many applicants were bluntly told to readjust their plant for electric or steam power— at their own cost, of course. Alcohol could be sold, but there was not much of this fuel on sale ; besides, every motor user's engine was not fitted for this sort of fuel, so that, if a large supply had been available, comparatively few users could have taken advantage of it straightaway. Subsequently, the restrictive regulations for the sale of petrol were relaxed, yet only for a brief space of time. What with the limitations placed on the use of petrol, and what with the inadequate supply of benzole, users soon had to garage their vehicles, or else run them on a mixture of these fuels together with some substitute or another. Exhausts grew more and more objectionable, streaming out a black evil-smelling smoke.
Berlin Short of Horses and Fodder.
Our correspondent understood that, when he left Berlin, the few remainingself-propelled vehicles still running were driven by petroleum. His wife, who is German born, was not interned, and has come to England with him. She knows the situation in detail. —ED.] Motor taxis had become a rarity, also vans and lorries, whilst the Berliner Allgemeine OmnibusGesellschaft had been compelled to close down nearly all its motor lines. Unfortunately for the company, it could not work these by horse-drawn omnibuses, for most of Berlin's horses suitable for such traction were, -or had been, hauling
n2G
guns and army wagons. Moreover, given suitable horses, where was the fodder to come from? Of this there was a dire shortage. By order of the Government, all horses were put 02 short rations, a maximum quantity of oats--two pounds —being fixed for each horse daily. Horses were falling about in the streets through sheer hunger. Our correspondent said that the horses attached to the laundry cart servMg the camp greedily devoured stale " Kriegsbrod "—aye, even old wheaten loaves which, in consequence of improper packing, had become mouldy on their way to the camp from England, and been tossed by the interned into the -waste boxes.
Grease, Oil and Rubber Disappearing.
In addition to a shortage of fuels, lubricants were growing scarcer. Some three months back the Government issued an order that the utmost economy with lubricants should be observed; no more oil or grease than was absolutely indispensable might be applied to the working parts of any .motor. Stocks of rubber were likewise reaching the vanishing point, no fresh supplies coming through.
A Contrast to London.
Another thing that hit the user was the sending of competent drivers to the Front. Firms piled up claim upon claim for the reten tion of the working staff, but rare exemptions were granted by the War Office. Hence the self-propelled vehicular traffic has sunk to a parlous state in German cities, in vivid contrast with the condition of things prevailing in London.
Sorry They Have Not Used Steam.
Our correspondent, who has not visited. London for several years, was simply annazed at the vast amount of motor traffic in the streets. What struck him. most of all was the large number of steam wagons, this class of vehicle being conspicuous by its absence in Berlin, even in times of peace ; and he thinks that many German users must have bitterly regretted having relied exclusively on the petrol vehicle for transport, since coal is to be had, although it costs more
than formerly. Most of Berlin's heavy petrol lorries being subsidized, this category was the first to slip out of the street traffic. Our correspondent has noted plenty cf large petrol lorries in London, the exigencies of war notwithstanding.
The British Fleet.
He remarked that the German Press often sneeringly asked where the British fleet was, affecting to regard it as non-existent because it was not bombarding German ports. Let the Germans look a.t their dwindling motor traffic for an answer. That fleet, too, is the German nightmare for other reasons ; it means that Russia will come on.