One Hears
25th November 1915
Page 3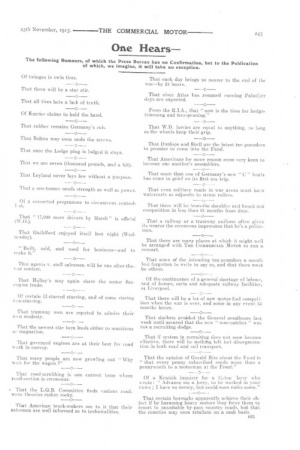 Page 3, 25th November 1915 —
One Hears
Close
The following Rumours, of which the Press Bursau has no Confirmation, but to the Publication of which, we imagine, it will take no exception.
Of twinges in twin tires.
That there will be a star stir.
That all tires hate a lack of truth. Of Karrier claims to hold the hand. That rubber remains Germany's rub.
That Bolton may soon undo the screws.
That once the Lodge plug is lodged it stays. That we are seven (thousand pounds, and a bit). That Leyland never lays low without a purpose.
That a one-tonner needs strength as well as power. Of a concerted programme to circumvent contrail: st.
That " 17,000 more drivers by March" is official (W.0.).
nesday). That Guildford enjoyed itself last night (Wed" Built, sold, and used for business—and to make it."
That agents v. staff salesmen will be one after-thewar contest.
engine trade. That Halley's may again share the motor fireOf certain ill-starred starring, and of some staring non-starring.
own modesty. That tramway men are reputedto admire their That the newest star turn leads either to munitions or stagnation.
That governed engines are at their best for road work in eonvoy.
wait for the wagon 1" That many people are now growling out " Why That road-scrubbing is one correct term where road-suetion is erroneous.
• That the L.G.B. Committee finds various roadwave theories rather rocky.
That American truck-makers see to it that. their salesmen are well informed as to technicalities,
That each day brings us nearer to the end of the war—by 24 hours.
That since Atlas has resumed running Palm(i)er days are expected.
From the R.I.A., that, "now is the time for hedgetrimming and tree-pruning."
That W.D. lorries are equal to anything, so long as the wheels keep their grip.
That Dunlops and Shell are the latest, ten-pounders to promise to come into the Fund.
That Americans for some reason seem very keen to become one another's assemblers.
That more than one of Germany's new "C " boats: has come to grier on its first sea trip.
That even military roads in war areas must have watercarts as adjuncts to steam rollers.
That there will be from-the-shoulder and knock-out competition in less than 21 months from date.
That a railway or a tramway uniform often givesits wearer the erroneous impression that he's a police• man.
That there are many places at which it might well he arranged with THE COMMERCIAL MOTOR to run a concert.
That some of the intending ten-pounders a month had forgotten to write to say so, and that there must be others.
Of the continuance of a general shortage of labour, and of horses, carts and adequate railway facilities, at Liverpool.
--0 That there will be a lot of new motor-fuel competi tion when the war is over, and some in any event 15 months hence.
That slackers avoided the General omnibuses last week until assured that the new " man-catcher " was not a recruiting dodge.
That if system in recruiting does not soon become effective, there will be. nothing left but disorganization in both road and rail transport.
That the opinion of Gerald Biss about the Fund is " that every penny subscribed sends more than a pennyworth to a motorman at the Front."
Of a Kentish inquirer for a :].-ton lorry who wrote: " Advance me a lorry, to be worked in your name ; I have no money, but could soon make some. '
That certain boroughs apparently achieve their object if by harassing heavy motors they force them to resort to unsuitable by-pass country roads, but that; the counties may soon retaliate on a cash basis.