Neutral Notes.
25th November 1915
Page 18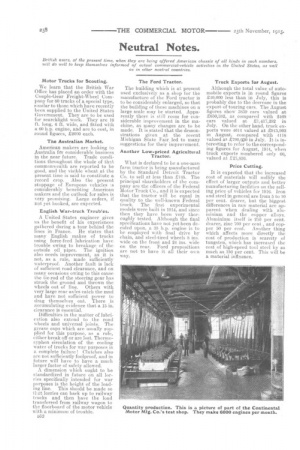 Page 18, 25th November 1915 —
Neutral Notes.
Close
British users, at the present time, when they are being offered American chassis of all kinds in such numbers, writ do well to keep themselves informed of actual commercial-vehicle activities in the United States, as well as in other neutral countries.
Motor Trucks for Scouting.
We learn that the British War Office has placed an order with the Couple-Gear Freight-Wheel Cornparry for 80 trucks of a special type, similar to those which have recently been supplied to the United States Government. They are to be used for searchlight work. They are 16 ft. long, 6 ft. wide, and fitted with a 60 h.p. engine, and are to cost, in round figuees, 22000 each.
The Australian Market.
American makers are looking to Australia for considerable business in the near future. Trade conditions throughout the whole of that commonwealth are reported to be good, and the visible wheat at the present time is said to constitute a record crop. Also the present stoppage of European vehicles is considerably benefiting American makers and the outlook for sales is very promising. Large orders, if not yet booked, are expected.
English War-truck Trio ub!e s.
A United States engineer gives us the benefit of his experiences gathered during a tour behind the lines in France. He states that many English makes of trucks using force-feed lubrication have trouble owing to breakage of the outside oil pipes. The ignition also needs improvement, as it is not, as a rule, made sufficiently waterproof. Another fault is lack of sufficient road clearance, and on many occasions owing to this cause the tie-rod of the steering gear has struck the ground and thrown the wheels out of line. Others with very large rear axles catch the mud and have not sufficient power to drag themselves out. There is accumulating evidence that a 15-in. clearance is essential.
Difficulties in the matter of lubrication also extend to the road wheels and universal joints. The grease caps which are usually supPlied for this purpose, as a rule, either break off or are lost. Thermosyphon circulation of the cooling water of trucks for war purposes is a complete failure Clutches also are not sufficiently foolproof, and in future will have to have a much larger factor of safety allowed.
A dimension which ought to bo standardized in future on all lorries specifically intended for war purposes is the height of the loading line. This should be made so fiat lorries can back up to railway trucks and then have the load transferred from railway wagon to the floorboard of the motor vehicle with a minimum of trouble.
.B52 The Ford Tractor.
The building which is at present used exclusively as a shop for the manufacture of the Ford tractor is to be considerably enlarged, so that the building of these machines on a large scale may be started. Apparently there is still room for considerable improvement in the machine, as many changes are to be made. It is stated that the demonstrations given at the recent Michigan State Fair led to many suggestions for their improvement.
Another Low-priced Agricultural Tractor.
What is declared to be a one-man farm tractor is being manufactured by the Standard Detroit Tractor Co. to sell at less than 2145. The principal shareholders of the company are the officers of the Federal Motor Truck Co., and it is expected that the tractor will be equal in quality to the well-known Federal truck. The " first experimental models were built in 1914, and since then they have been very thoroughly tested. Although the final specifications have not yet been decided upon, a 35 h.p. engine is to be employed with final drive by chain, and steel-tired wheels 8 ins. wide on the front and 24 ins, wide on the rear. Ford propositions are not to have it all their own way. Truck Exports for August.
Although the total value of automobile exports is in round figures 240,000 less than in July, this is probably due to the decrease in the export of touring cars. The August figures show 3830 cars valued at 2650,382, as compared with 2469 cars valued at 21,417,292 in July. On the other hand, truck exports were 4614 valued at 2913,993 in August, compared with 4118 valued at 2799,030 in July. It is interesting to refer to the corresponding figures for August, 1914, when truck exports numbered only 66, valued at 225,836.
Price Cutting.
It is expected that the increased cost of materials will nullify the effect of larger outputs and better manufacturing facilities on the selling price of vehicles for 1916. Iron and steel in general are from 5 to 10 per cent, dearer, but the biggest differences in raw material are apparent when dealing with aluminium and the copper alloys. Aluminium itself is 230 per cent. dearer, zinc 700 per cent , and copper 50 per cent. Another thing which affects more directly the cost of production is scarcity of tungsten, which has increased the cost of high-speed tool steel by as much as 150 per cent. This will be a material influence.