Loading in Relation to Registered Axle-Weight.
25th May 1916
Page 1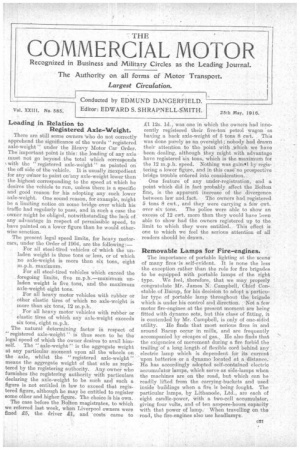 Page 2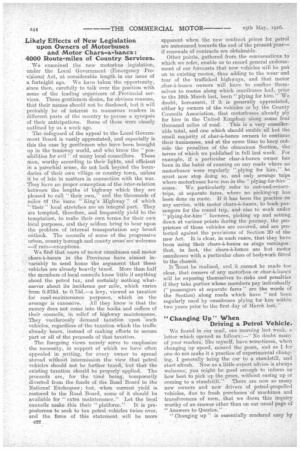 Page 3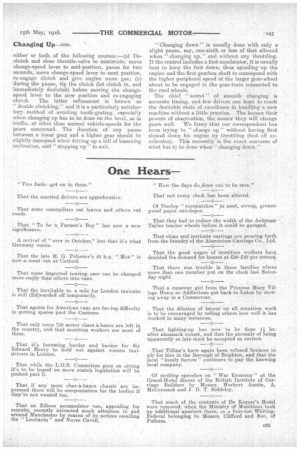 Page 1, 25th May 1916 —
Loading in Relation to Registered Axle-Weight.
Close
There are still some owners Who do not correctly apprehend the significance of the words registered axle-weight" under the Heavy Motor Car Order. The important point is this : the loading of any axle must not go beyond the total which corresponds \ with the "registered axle-weight" as painted on the off side of the vehicle. It is usually inexpedient for any osi;ner to paint on-any axle-weight lower than the highest corresponding to the speed at which he desires the vehicle to run, unless there is a specific and good reason for his adopting any such lower axle-weight. One sound reason, for example, might be a limiting notice on some bridge over which his traffic had regularly, to pass, and in such a case the owner might be obliged, notwithstanding the lack of any advantage in respect of permissible apeed, to have painted on a lower figure than he would otherwise sanction.
The present legal speed limits, for heavy motorcars, under the Order of 1904, are the following:— For all steel-tired vehicles of which the unladen weight is three tons or less, or of which no axle-weight is more than six tons, eight m.p.h. maximum.
For all steel-tired vehicles which exceed the foregoing limits, five m.p.h.—maximum unladen weight is five tons, and the maximum axle-weight eight tons.
For all heavy motor vehicles with rubber or other elastic tires of which no axle-weight is more than six tons, 12 m.p.h.
For all heavy motor vehicles with rubber or elastic tires of which any axle-weight exceeds six tons, eight m.p.h.
The natural determining factor in respect of "registered axle-weight" is thus seen to be the legal speed of which the owner desires to avail himself. The "axle-weight "is the aggregate weight at any particular moment upon all the wheels on the axle, whilst the "registered axle-weight" means the aggregate weight of that axle as registered by the registering authority. Any owner who furnishes the registering authority with particulars declaring the axle-weight to be such and such a figure is not entitled in law to exceed that registered figure, although he may be entitled to register some other and higher figure. The choice iS his own.
The case before the Bolton magistrates, to which we referred last week, when Liverpool owners were fined £5, the driver £1, and -costs came to fl 12s. id., was one in which the owners had innocently registered their five-ton petrol wagon as haying a back axle-weight of 5 tons 8 cwt.This was done purely as an oversight; nobody had drawn their attention to the point with _Which we have been dealing, although they might with advantage have registered 'six tons, which is the maximum for the 12 m.p.h. speed. Nothing was gaincol by registering a lower figure, and in this case-no prospective bridge trouble entered into consideration.. One feature of any under-registration, and a point which did in _fact probably affect the Bolton fine, is the apparent increase of the divergence between law and fact. The owners had registered 5 tons 8 ewt.,. and they were carrying a few cwt. over six tons. The police were able to 'show an excess of 12 cwt. more than they would have been able to show had the owners registered up to the limit to which they were entitled. This effect isone to which we feel the serious attention of all readers should be drawn.
Removable Lamps for Fire-engines.
The importance of portable lighting at the scene of many fires 'is self-evident. It is none the less the exception rather than the rule for fire brigades to be equipped with portable lamps of the right type. We feel, therefore, that we may properly congratulate Mr. James N. Campbell, Chief Constable.of Bacup, for his decision to adopt a particular type of portable lamp throughout the brigade which is under his control and direction. Not a few 'motor fire-engines at the present moment are being fitted with dynamo sets, but this class of fitting, it is contended by Mr. Campbell, is only of one-sided utility. He finds that most serious fires in and around Bacup occur in mills, and are frequently accompanied by escapes of gas.. He also finds that the exigencies of movement during a fire forbid the trailing of a long length of flexible cord behind any electric lamp which is dependent for its current upon batteries or a dynamo located at a distance. He has accordingly adopted self-contained electric accumulator lamps, which serve as side-lamps when the machines are on the road, but which can be readily lifted from the carrying-buckets and used inside buildings when a fire is r'being fought. The particular lamps, by Lithanode, Ltd., are each of eight candle-power, with a two-cell accumulator, giving four volts, and of ten ampere-hours capacity with that power of lamp. When travelling on the road, the fire-engines also use headlamps. Likely Effects a New Legislation upon Owners of Motorbuses
and Motor Chars-a-banes 4000 Route-miles of Country Services.
We examined the new motorbus legislation, under the Local Government (Emergency Provisions) Act, at considerable length in our issue of a fortnight ago. We have taken the opportunity, since then, carefully to talk over the position with some of the leading organizers of Provincial services. These gentlemen desire, for obvious reasons, that their names should not be disclosed, but it will probably be of interest to numerous readers in different parts of tbo country to peruse a synopsis of their anticipations. Some of these were clearly outlined by us a week ago.
The safeguard of the appeal to the Local Government Board is vastly appreciated, and especially is this the case by gentlemen who have been brought up in the tramway world, and who know the "possibilities for evil " of many local councillors. These men, worthy according to their lights, and efficient in a parochial sense, do not look beyond the boundaries of their own village or country town, unless it be of late in matters in connection with the war. They have no proper conception of the inter-relation between the lengths of highway which they are pleased to call "their own," and the thousands of miles of the -same "King's Highway" of which "their" local stretches are an integral part. They are tempted, therefore, and frequently yield to the temptation, to make their own terms for their own local purposes, and they seldom bring to bear upon the problem of internal transportation any broad outlook. The councils of some of the progressive urban, county borough and county areas'are welcome —if rare—exceptions.
We find that users of motor omnibuses and motor chars-h-bancs in the Provinces have almost in-variably to send home the argument that these vehicles are already heavily taxed. More than half the members of local councils know little if anything about the petrol tax, and certainly nothing whatsoever about its incidence per mile, which varies from 0.375d. to 0.75d.—a levy, viewed as taxation for road-maintenance purposes, which On the average is excessive. All they know is that the money does not come into the books and coffers of their councils, in relief of highway maintenance. They vociferously demand taxation upon -such vehicles, regardless of the taxation which the traffic already bears, instead of making efforts to secure part or all of the proceeds of that taxation.
The foregoing views merely serve to emphasize the necessity, in support of which we have often appealed in yaiting, for every owner to spread abroad without intermission the view that petrol vehicles should not be further taxed, but that the existing taxation should be properly applied. The proceeds are, for the timd being, temporarily diverted from the funds of the Road Board to the National Exchequer; but, when current yield is restored to the Road Board, some of it should be available for " extra maintenance." Let the local councils make this their "platform." It is preposterous to seek to tax petrol.vehieles twice over, and the force of this statement will be more apparent when the new contract prices for petrol are announced towards the end of the present year— if renewals of contracts are obtainable.
Other points, gathered from theconversations to which we refer, enable us to record general endorsement of our forecasts that new vehicles will be put on to existing routes, thus adding to the wear and tear of the trafficked highways, and that motor . char-à-barics owners will have to confine themselveS to routes along which omnibuses had, prior to the 16th March last, been ". plying for hire." We doubt, hereanent, if it is generally appreciated, either by owners of the vehicles or by the County Councils AssOciation,. that motorbuses already ply for hire in the United Kingdom n along some foui thousand miles of road. This is a very considerable total, and one which should enable all but the small majority of char-a-banes owners to continue their businesses, and at the same time to keep outside the penalties of the obnoxious Section, the terms of which we published in full last week. For example, if a particular char-a-bancs owner has been in. the habit of running on any roads where no motorbuses were regularly "plying for hire," he Must now stop doing so, and only ,arrange trips where motorbuses have runin the " plying-for-hire " sense. We particularly refer to out-and-returntrips, at separate fares, where no picking-up has been done en route. If it has been the practice on any service, with motor chars-a-banes, to book passengers for the round trip, and also to work under " plying-for-hire " licences, picking up and setting down at various points during the journey, the proprietors of those vehicles are covered, and are protected against the provisions of Section 20 of the new Act. • It is clear, in such eases, that they have been using their chars-h-bancs as stage carriages:. that, in fact, the chars-h-bancs are but motor omnibuses with, a particular class of bodywork fitted to the chassis.
It 'Must be realized, and it cannot be made too clear, that Owners of any motorbus or char-it-bares will be exposing themselves to risks and penalties if they take parties whose members pay individually (" passengers at separate fares are the words of the Section) along roads which have "not been regularly used by omnibuses plying for hire within two years prior to the first day of March last."
" Changing Up " When Driving a Petrol Vehicle.
We found in Our mail, one morning last week, a. .letter which opened as follow:-" No doubt many of your readers, like myself, have sometimes, when changing up speed, missed the gears, and as I for one do not make it a.practice of experimental chin*. ing, I generally bring the car to a standstill, and start afresh. Now as a little expert advice is always welcome-, you might be good enoughto inform us how best, to pick up the gears, without easing up or coming to a standstill" There are now so many new owners and new drivers of Petrol-propelled vehicles, due to fresh purchases of machines and transferences of men, that we deem this inquiry worthy of an answer other than on our usual page of "Answers to Queries." ' "Changing up " is essentially rendered easy by either or both of the following courses:—(a) Declutch and close throttle-valve to minimurn, move change-speed lever to mid-position, pause for two seconds, move change-speed lever to next position, re-engage clutch and give engine more gas; (b) during the pause, tip the clutch (let clutch in, and immediately declutch) before moving the changespeed lever to the new position and re-engaging clutch. The latter refinement is known as "double clutching," and it is a particularly satisfactory method of avoiding tooth-grating, especially when changing up has to be done on the level, as in traffic, at other than normal vehicle-speeds for the gears concerned. The duration of any pause between a lower gear and a higher gear should be slightly increased when driving up a hill of lessening inclination, and "stepping up to suit.. " Changing down" is usually done with only a slight pause, say, one-sixth or less of that allowed when "changing up," and without any throttling. If the control includes a foot-accelerator, it is usually best to keep the foot down, thus speeding up the engine and the first gearbox shaft to correspond with the higher peripheral speed of the larger gear-wheel about to be engaged in the gear-train connected to the road wheels.
The chief " secret " of smooth changing is accurate timing, and few drivers can hope to reach the desirable state of excellence in handling a new machine without a little practice. The keener their powers of observation, the sooner they will change gears well. We fancy that our correspondent has been trying to "change up" without having first slowed_ down his engine by throttling (foot 0% accelerator). This necessity is the exact converse of what has to be done when" changing down."