Men Worth Knowing.
25th May 1905
Page 13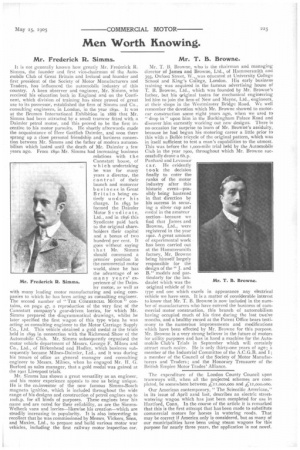 Page 13, 25th May 1905 —
Men Worth Knowing.
Close
Mr. Frederick R. Simms.
It is not generally known how greatly Mr. Frederick R. Simms, the founder and first vice-chairman of the Automobile Club of Great Britain and Ireland and founder and first president of the Society of Motor Manufacturers and Traders, has influenced the automobile industry of this country. A keen observer and engineer, Mr. Simms, who received his education both in England and on the Continent, which division of training has since proved of great use to its possessor, established the firm of Simms and Co., consulting engineers, in London, in the year 189o. It was at the Bremen International Exhibition in /888 that Mr. Simms had been attracted by a small tramcar fitted with a Daimler petrol motor, and this proved to be the first incentive to his motor pursuits. He shortly afterwards made the acquaintance of Herr Gottlieb Daimler, and soon there sprang up a close personal friendship and business connection between Mr. Simms and the father of modern autornobilism which lasted until the death of Mr. Daimler a few years ago. From 1890 Mr. Simms had increasing business relations with t he Cannstatt house, of which undertaking he was for many years a director, the control of their launch and motorcar business in Great Britain being entirely under his charge. In 1893 he formed the Daimler Motor Syndicate, Ltd., and in 1896 this Syndicate paid back to the original shareholders their capital and a bonus of two hundred per cent. It goes without saying that Mr. Simms should command a premier position in the commercial motor world, since he has the advantage of SO many years' experience of the Daimler motor, as well as with many leading motor manufacturing and using companies to which he has been acting as consulting engineer. The second number of " TIIE COMMERCIAL MOTOR " contains, on page 47, a reproduction of the very first of the Cannstatt company's gear-driven lorries, for which Mr. Simms prepared the diagranunatical drawings, whilst he later specified the first wagon of this type when he was acting as consulting engineer to the Motor Carriage Supply Co., Ltd. This vehicle obtained a gold medal at the trials held in 1899 in connection with the Richmond Show of the Automobile Club. Mr. Simms subsequently organised the motor vehicle department of Messrs. George F. Milnes and Co., Ltd., of Birkenhead and Hadley, which business subsequently became Milnes-Daimler, Ltd., and it was during his tenure of office as general manager and consulting engineer to Messrs. Milnes, when he engaged Mr. H. G. Burford as sales manager, that a gold medal was gained at the 1901 Liverpool trials.
Mr. Simms has shown a great versatility as an engineer, and his motor experience appeals to one as being unique. He is the co-inventor of the now famous Simms-Bosch magneto ignition, which is included throughout the wide range of his designs and construction of petrol engines up to rooh.p. for all kinds of purposes. These engines bear his name and are noted for their reliability, as are the SimmsWelbeck vans and lorries—likewise his creation—which are steadily increasing in popularity. It is also interesting to recollect that he was commissioned by Messrs. Vickers, Sons, and Maxim, Ltd., to prepare and build various motor war vehicles, including the first railway motor inspection car.
Mr. Frederick R. Simms.