Aja On the eve of Agricon '76. • •
25th June 1976
Page 6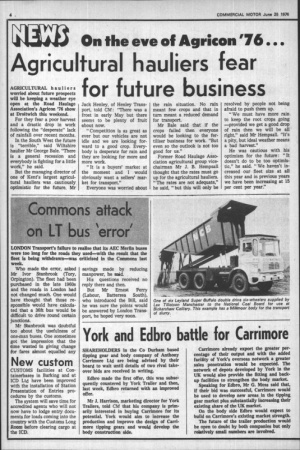 Page 6, 25th June 1976 —
Aja On the eve of Agricon '76. • •
Close
Agricultural hauliers fear for future business
AGRICULTURAL hauliers worried about future prospects will be keeping a weather eye open at the Road Haulage Association's Agricon '76 show at Droitwich this weekend.
For they fear a poor harvest and a drastic drop in work following the "desperate" lack of rainfall over recent months.
In the South West the future is "terrible," said Wiltshire haulier Mr George Bale. "There is a general recession and everybody is fighting for a little work," he said.
But the managing director of one of Kent's largest agricultural hauliers was cautiously optimistic for the future. Mr Jack Henley, of Henley Transport, told CM: "There was a frost in early May but there seems to be plenty of fruit about now.
" Competition is as great as ever but our vehicles are not idle and we are looking forward to a good crop. Everybody is desperate for rain and they are looking for more and more work.
"It is a buyers' market at the moment and I would obviously want a sellers' market for transport."
Everyone was worried about the rain situation. No rain meant few crops and that in turn meant a reduced demand for transport.
Mr Bale said that if the crops failed then everyone would be looking to the fertiliser business for work. "But even so the outlook is not too good for us."
Former Road Haulage Association agricultural group vicechairman Mr J. B. Hempsall thought that the rates must go up for the agricultural hauliers. "The rates are not adequate," he said, "but this will only be resolved by people not being afraid to push them up.
"We must have more rain to keep the root crops going —provided we get a good drop of rain then we will be all right," said Mr Hempsall. "It's a pity, but ideal weather means a bad harvest."
He was cautious with his optimism for the future: "It doesn't do to be too optimistic," he said. "We haven't increased our fleet size at all this year and in previous years we have been increasing at 15 per cent per year."