Gardner v Rolls in take-over moves
25th June 1976
Page 5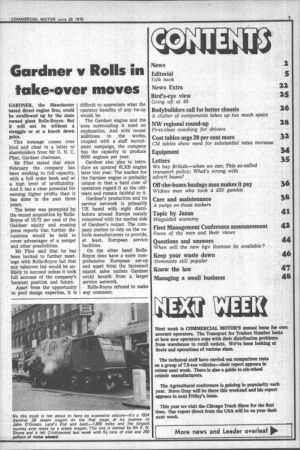 Page 5, 25th June 1976 —
Gardner v Rolls in take-over moves
Close
GARDNER, the Manchester based diesel engine firm, could be swallowed up by the state owned giant Rolls-Royce. But it will not be without a struggle or at a knock down price.
This message comes over loud and clear in a letter to shareholders from Mr G. N. C. Flint, Gardner chairman.
Mr Flint stated that since February the company has been working to full capacity, with a full order book and at a high level of profitability. And it has a clear potential for earning higher profits than it has done in the past three years. The letter was prompted by the recent acquisition by RollsRoyce of 16,72 per cent of the Gardner equity and ensuing press reports that further discussions would be held to cover advantages of a merger and other possibilities.
Mr Flint said that he has been invited to further meetings with Rolls-Royce but that any takeover bid would be unlikely to succeed unless it took full account of the company's buoyant position and future. Apart from the opportunity to pool design expertise, it is difficult to appreciate what the operator benefits of any tie-up would be.
The Gardner engine and the aura surrounding it need no explanation. And with recent additions to the works, coupled with a staff recruitment campaign, the company has the capacity to produce 6000 engines per year. Gardner also plan to introduce an uprated 6LXB engine later this year. The market for the Gardner engine is probably unique in that a hard core of operators regard it as the ultimate and remain faithful to it.
Gardner's production and its service network is primarily UK based with eight distributors around Europe mainly concerned with the marine side of Gardner's output. The company prefers to rely on the vehicle manufacturers to provide, at least, European service facilities.
On the other hand RollsRoyce does have a more comprehensive European set-up and apart from the increased export sales outlets Gardner could benefit from a larger service network.
Rolls-Royce refused to make any comment.