VERSATILITY of operation was the common denominator of the vehicles
25th June 1976
Page 48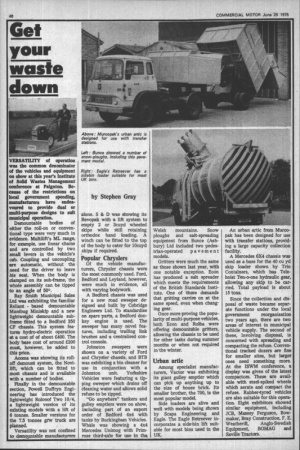 Page 48, 25th June 1976 —
VERSATILITY of operation was the common denominator of the vehicles
Close
Keywords :
and equipment on show at this year's Institute of Solid Wastes Management conference at Paignton. Because of the restrictions on local government spending, manufacturers have endeavoured to provide dual or multi-purpose designs to suit municipal operation.
Demountable bodies of either the roll-on or conventional type were very much in evidence. Multilift's ML range, for example, use linear chains and are controlled by two small levers in the vehicle's cab. Coupling and uncoupling are automatic, without the need for the driver to leave his seat. When the body is clamped on its sub-frame, the whole assembly can be tipped to an angle of 500.
Ray Smith Municipal Sales Ltd was eXhibiting the familiar Reliant based demountable Murribug Miniskip and a new lightweight demountable subframe fitted to a Bedford 350 CF chassis. This system features hydro-electric operation at a cost of of about £400. The body base cost of around £200 must, however, be added to this price.
Acoma was showing its rolloff demount system, the Novilift, which can be fitted to most chassis and is available with a number of bodies.
Finally in the demountable section, Powell Duffryn Engineering has introduced the lightweight Rolonof Two 10/4, a lightweight version of its eatisting models with a lift of 6 tonnes. Smaller versions for the 7.5 tonnes grw truck are planned.
Versatility was not confined to demountable manufacturers alone. S & D was showing its Revopak with a lift system to empty 2 or 3cuyd wheeled skips while still retaining orthodox hand loading. A winch can be fitted to the top of the body to cater for lOcuyd skips if required.
Popular Chryslers
Of the vehicle manufacturers, Chrysler chassis were the most commonly used. Ford, Bedford and Leyland, however, were much in evidence, all with varying bodywork.
A Bedford chassis was used for a new road sweeper designed and built by Cobridge Engineers Ltd. To standardise on spare parts, a Bedford donkey engine is used. The sweeper has many novel features, including trailing link brushes and a centralised control console.
Johnston sweepers were shown on a variety of Ford and Chrysler chassis, and BTB was exhibiting a bin cleaner for use in conjunction with a Johnston unit. Yorkshire Vehicles were featuring a tipping sweeper which drains off cleaning water and allows solid refuse to be tipped.
"Go anywhere" tankers and gulley emptiers were on show, including part of an export order of Bedford 4x4 with tanks by Buckingham Vehicles. Whale was showing a 4x4 Mercedes Unimog with Primrose third-axle for use in the Welsh mountains. Snow ploughs and salt-spreading equipment from Bunce (Ashbury) Ltd included two pedestrian-operated pavement models.
Gritters were much the same as those shown last year, with one notable exception. Econ has produced a salt spreader which meets the requirements of the British Standards InstitUte. One of these demands that gritting carries on at the same speed, even when changing gear.
Once more proving the popularity of multi-purpose vehicles, both Econ and Rolba were offering demountable grittters, allowing the chassis to be used for other tasks during summer months or when not required in the winter.
Urban artic
Among specialist manufacturers, Vactor was exhibiting its giant gulley emptier which can pick up anything up to the size of house brick. Its smaller brother, the 700, is the most popular model.
Side loaders are alive and well with models being shown by Scapa Engineering and Eagle. The Eagle Retreever incorporates a side-bin lift suitable for most bins used in the UK. An urban artic from Murcopak has been designed for use with transfer stations, providing a large capacity collection facility.
A Mercedes 6X4 chassis was used as a base for the 40 cu yd skip loader shown by Trio Containers, which has Telehoist Ten-o-one hydraulic gear, allowing any skip to be carried. Total payload is about 15 tons.
Since the collection and disposal of waste became separate functions under the local government reorganisation two years ago, there are two areas of interest in municipal vehicle supply. The second of these, 'involving disposal, is concerned with spreading and compacting the refuse. Conventional tracked dozers are fine for smaller sites, but larger ones need something more. At the ISWM conference, a display was given of the latest compactors. These are available with steel-spiked wheels whiCh aerate and compact the refuse. Rubber-tyred vehicles are also suitable for this operation. Eight exhibitors showed similar equipment, including JCB, Massey Ferguson, Bowmaker, Bray Construction, F. E.
Weatherill, Anglo-Swedish Equipment, BOMAG and Saville Tractors.