UccK Ueviews
25th June 1976
Page 46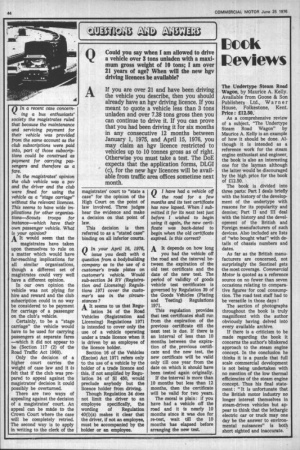 Page 46, 25th June 1976 —
UccK Ueviews
Close
The Undertype Steam Road Wagon, by Maurice A. Kelly. Available from Goose & Son Publishers Ltd., Warn er House, Folkestone, Kent. Price : 02.50.
As a comprehensive review of a subject, "The Undertype Steam Road Wagon" by Maurice A. Kelly is an example of how it should be done. Although it is intended as a reference work for the steam engine enthusiast and engineer, the book is also an interesting one for the layman although the latter would be discouraged by the high price for the book of E12.50.
The book is divided into three parts: Part I deals briefly with the history of the development of the undertype with reasons for its popularity and demise; Part II and III deal with the history and the development of the British and Foreign manufacturers of such devices. Also included are lists of "who bought what" with details of chassis numbers and dates.
As far as the British manufacturers are concerned, not surprisingly the Sentinel gets the most coverage. Commercial Motor is quoted as a reference source on no fewer than seven occasions relating to comparative figures' for coal consumption. The road test staff had to be versatile in those days !
The section of photographs throughout the book is truly magnificent with the author obviously having delved into every available archive.
If there is a criticism to be made regarding the book it concerns the author's blinkered approach to the steam engine concept. In the conclusion he thinks it is a puzzle that full scale commercial development is not being undertaken with no mention of the low thermal efficiencies of the steam engine concept. Thus his final statement: "It is unfortunate that the British motor industry no longer interest themselves in steam-driven vehicles but appear to think that the lethargic electric car or truck may one day be the answer to environmental nuisances" is both short sighted and inaccurate.