AFTER driving buses for Widnes Corporation and Crosvine, Mr L.
25th June 1976
Page 38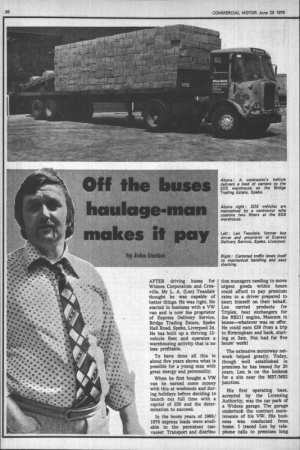 Page 39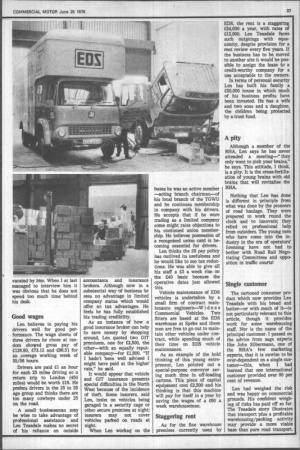 Page 38, 25th June 1976 —
AFTER driving buses for Widnes Corporation and Crosvine, Mr L.
Close
A. (Len) Teasdale thought he was capable of better things. He was right. He started in business with a VW van and is now the proprietor of Express Delivery Service, Bridge Trading Estate, Speke Hall Road, Speke, Liverpool 24. He has built up a thriving 12vehicle fleet and operates a warehousing activity that is no less profitable.
To have done all this in about five years shows what is possible for a young man with great energy and personality.
When he first bought a VW van he earned some money with this at weekends and during holidays before deciding to launch out full time with a capital of £50 and the determination to succeed.
In the boom years of 1969/ 1970 express loads were available to the persistent canvasser. Transport and distribu tion managers needing to move urgent goods within hours could afford to pay premium rates to a driver prepared to exert himself on their behalf. Len carried products for Triplex, heat exchangers for the RB211 engine, Mascara in boxes—whatever was on offer. He could earn £38 from a trip to Birmingham and back, starting at 3am. Not bad for five hours' work!
The extensive motorway network helped greatly. Today, though well established in premises he has leased for 20 years, Len is on the lookout for a site near the M57/M62 junction.
His first operating base, accepted by the Licensing Authority, was the car park of a Widnes garage. The garage undertook the contract maintenance of his VW. His business was conducted from home. I traced Len by telephone calls to premises long vacated by him. When I at last managed to interview him it was obvious that he does not spend too much time behind his desk.
Good wages
Len believes in paying his drivers well for good performance. The wage sheets of three drivers he chose at random shoved gross pay of £128.80, £73.13 and £96.51 for an average working week of 55/56 hours.
Drivers are paid £1 an hour for each 25 miles driving so a return trip to London (450 miles) would be worth £18. He prefers drivers in the 25 to 35 age group and thinks there are too many cowboys under 25 on the road.
A small businessman may be wise to take advantage of professional assistance and Len Teasdale makes no secret of his reliance on outside accountants and insurance brokers. Although now in a substantial way of business he sees no advantage in limited company status which would offer no tax advantages. He feels he has fully established his trading credibility. As an instance of how a good insurance broker can help to save money by shopping around, Len quoted two GIT premiums, one for £2,500, the other—with an equally reputable company—for £1,800. "If I hadn't been well advised I might have paid at the higher rate," he said.
It would appear that vehicle and GIT insurance presents special difficulties in the North West because of the incidence of theft. Some insurers, said Len, insist on vehicles being garaged in a security cage or other secure premises at night; insurers may not cover vehicles parked on roads at night. When Len worked on the buses he was an active member —acting branch chairman—of his local branch of the TGWU and he continues membership in company with his drivers. He accepts that if he were trading as a limited company some might raise objections to his continued union membership. He believes possession of a recognised union card is becoming essential for drivers. Len thinks the £6 pay policy has outlived its usefulness and he would like to see tax reductions. He was able to give all his staff a £3 a week rise on the £40 basic because the operative dates just allowed this.
Vehicle maintenance of EDS vehicles is undertaken by a small firm of contract maintenance engineers—W idnes Commercial Vehicles. Two fitters are based at the EDS warehouse at Speke and these men are free to go out to maintain other vehicles under contract, while spending much of their time on EDS vehicle maintenance.
As an example of the bold thinking of this young entrepreneur, Len pointed out a special-purpose conveyor saving much time in off-loading , cartons. This piece of capital equipment cost £2,500 and his thinking is that this machine will pay for itself in a year by saving the wages of a £60 a week warehouseman.
Staggering rent
As for the fine warehouse premises currently used by EDS, the rent is a staggering £24,000 a year, with rates of E12,000. Len Teasdale faces such outgoings with equanimity, despite provision for a rent review every five years. If the business has to be moved to another site it would be possible to assign the lease to a credit-worthy company for a use acceptable to the owners. In terms of personal security Len has built his family a £50,000 house in which much of his business profits have been invested. He has a wife and two sons and a daughter, the children being protected by a trust fund.
A pity
Although a member of the RHA, Len says he has never attended a meeting—" they only want to pick your brains," he says. This attitude, I think, is a pity. It is the cross-fertilisation of young brains with old brains that will revitalise the RHA.
Nothing that Len has done is different in principle from what was done by the pioneers of road haulage. They were prepared to work round the clock and to innovate; they relied on professional help from outsiders. The young men who have come into the industry in the era of operators' licensing have not had to bother with Road Rail Negotiating Committees and opposition in traffic courts!
Single customer
The cartoned consumer product which now provides Len Teasdale with his bread and butter—or with much of it—is not particularly relevant to this article, though it provides work for some warehousing staff. Nor is the name of the principal customer. I passed on the advice from sage experts like John Silberrnann, one of the RHA's few marketing experts, that it is unwise to be over-dependent on a single customer—this, when I had learned that one international customer provided over 90 per cent of revenue.
Len had weighed the risk and was happy on commercial grounds. His confident weighing of risks has paid off so far. The Teasdale story illustrates that transport plus a profitable warehousing/packing activity may provide a more viable base than pure road transport.