'Pay up or else' warning
25th June 1976
Page 19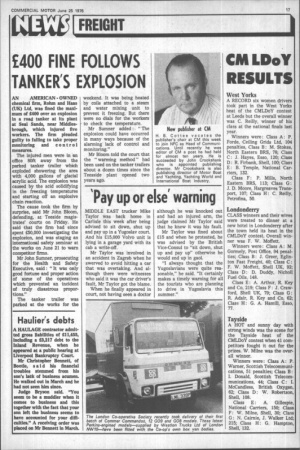 Page 19, 25th June 1976 —
'Pay up or else' warning
Close
MIDDLE EAST trucker Mike Taylor was back home in Carlisle this week after being advised to sit down, shut up and pay up in a Yugoslav court. And his £15,000 Volvo unit is lying in a garage yard with its cab a write-off.
Mr Taylor was involved in an accident in Zagreb when he swerved to avoid hitting a car that was overtaking. And although there were witnesses who said it was the car driver's fault, Mr Taylor got the blame.
When he finally appeared in court, not having seen a doctor although he was knocked out and had an injured arm, the judge claimed Mr Taylor said that he knew it was his fault.
Mr Taylor was fined about £15 and when he protested, he was advised by the British Vice-Consul to "sit down, shut up and pay up" otherwise he would end up in gaol.
"I always thought that the Yugoslavians were quite reasonable," he said. "It certainly makes a timely warning for all the tourists who are planning to drive in Yugoslavia this summer."