£400 FINE FOLLOWS TANKER'S EXPLOSION
25th June 1976
Page 19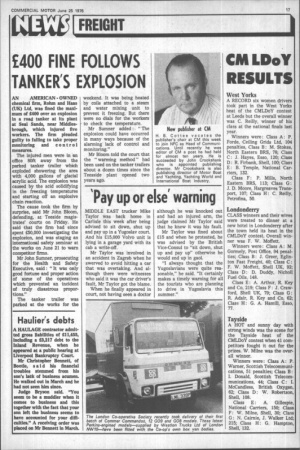 Page 19, 25th June 1976 —
£400 FINE FOLLOWS TANKER'S EXPLOSION
Close
AN AMERICAN OWNED chemical firm, Rohm and Haas (UK) Ltd, was fined the maximum of £400 over an explosion in a road tanker at its plant at Seal Sands, near Middlesbrough, which injured five workers. The firm pleaded guilty to failing to take proper monitoring and contr ol measures.
The injured men were in an office 80ft away from the parked tanker trailer which exploded showering the area with 4,000 gallons of glacial acrylic acid. The explosion was caused by the acid solidifying in the freezing temperatures and starting off an explosive chain reaction.
The cause took the firm by surprise, said MT John Bloom, defending, at Teeside magistrates' courts on Friday. He said that the firm had since spent £50,000 investigating the explosion, and was staging an international safety seminar at the works on June 21 to warn competitor firms.
Mr John Sumner, prosecuting for the Health and Safety Executive, said : "It was only good fortune and proper action of some of the operatives which prevented an incident of truly disastrous proportions."
The tanker trailer was parked at the works for the weekend. It was being heated by coils attached to a steam and water mixing unit to prevent it freezing. But there were no dials for the workers to check the temperature.
Mr Sumner added : " The explosion could have occurred in many ways because of the alarming lack of control and monitoring.'
Mr Bloom told the court that the "warming method" had been used on the tanker trailers about a dozen times since the Teesside plant opened two years ago.