SHORT HAULS
25th June 1976
Page 17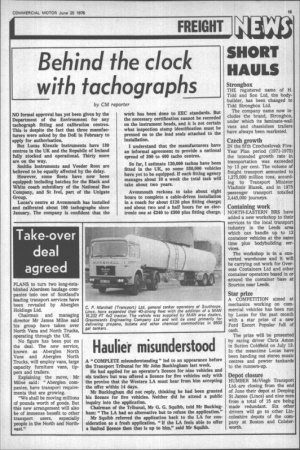 Page 17, 25th June 1976 —
SHORT HAULS
Close
Strongbox
THE registered name of H. Tidd and Son Ltd, the bodybuilder, has been changed to Tidd Strongbox Ltd.
The company name now includes the brand, Strongbox, under which its laminate-wall vans and chassisless trailers have always been marketed.
Czech growth
IN the fifth Czechoslovak FiveYear Plan period (1971-1975) the intended growth rate in transportation was exceeded by 13 per cent. The volume of freight transport amounted to 1,275,000 million tons, according to Transport Minister Vladimir Blazek, and in 1975 passenger transport totalled 2,445,000 journeys.
Containing work
NORTH-EASTERN BRS have added a new workshop to their services to the local transport industry in the Leeds area which can handle up to 12 container vehicles at the same time plus bodybuilding services.
The workshop is in a converted warehouse and it will be carrying out work for Overseas Containers Ltd and other container operators based in or around the container base at Sourton near Leeds.
Star prize
A COMPETITION aimed at mechanics working on commercial vehicles has been run by Lucas for the past month with a star prize of a new Ford Escort Popular full of cash.
The prize will be presented by racing driver Chris Amon in Sutton Coldfield on July 13. In the meantime Lucas have been handing out stereo music centres and pewter tankards to the runners-up.
Depot closure
HUMBER McViegh Transport Ltd. are closing from the end of June their depot at Deeping St James (Lines) and nine men from a total of 15 are being made redundant. Six other drivers will go to other Lincolnshire depots of the company at Boston and Colsterworth.