Air-cooled Three-wheelers Wanted
25th June 1954
Page 62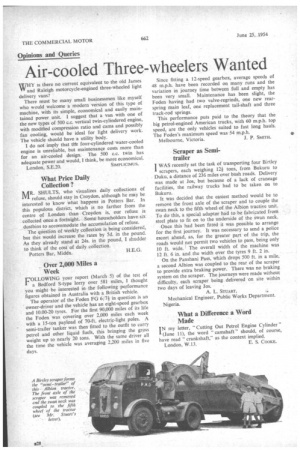 Page 62, 25th June 1954 —
Air-cooled Three-wheelers Wanted
Close
WHY is there no current equivalent to the old James " and Raleigh motorcycle-engined three-wheeled light delivery vans? There must be many small businessmen like myself who would welcome a modern version of this type of machine, with its simple, economical and easily maintained power unit. I suggest that a van with one of the new types of 500 c.c. vertical twin-cylindered engine, with modified compression ratio and cams and possibly fan cooling, would be ideal for light delivery work. The vehicle should have a utility body. I do not imply that tee four-cylindered water-cooled engine is unreliable, but maintenance costs more than for an air-cooled design. The 500 c.c. twin has adequate power and would, I think, be more economical. London, S.E.20. Simmicimus.
What Price Daily Collection ?
MR . SHULTS, who visualizes daily collections of refuse, should stay in Croydon, although he rriay be interested to know what happens in Potters Bar. In this populous district, which is no farther from the centre of London than Croydon is, our refuse is collected once a fortnight. Some householders have six dustbins to accommodate the accumulation of refuse. The question of weekly collection is being.considered, but this would increase' the rates by 5d, in the pound. As they already stand at 24s. in the pound, I shudder to think of the cost of daily collection.
Potters Bar, Middx. H.E.G.
_ Over 2,000 Miles a Week
rOLLOWING your report (March 5) of the test of I a Bedford S-type lorry over 581 miles, I thought you might be interested in the following performance figures obtained in Australia with a British vehicle.
The operator of the Foden FG 6/74 in question is an owner-driver and the vehicle has an eight-speed gearbox and 10.00-20 tyres. For the first 90,000 miles of its life the Foden was covering over 2,000 miles each week with a 15-ton payload of 70-ft. electric-light poles. A semi-trailer tanker was then fitted to the outfit to carry petrol and other liquid fuels, this bringing the gross weight up to nearly 20 tons. With the same driver all the time the vehicle was averaging 2,200 miles in five days. Since fitting a 12-speed gearbox, average speeds of 48 m.p.h. have been recorded on many runs and the variation in journey time between full and empty has been very small. Maintenance has been slight, the Foden having had two valve-regrinds, one new rearspring main leaf, one replacement tail-shaft and three track-rod springs. This performance puts paid to the theory that the big petrol-engined American trucks, with 60 m.p.h. top speed, are the only vehicles suited to fast long hauls. The Foden's maximum speed was 54 m.p.h.
Melbourne, Victoria. J. P. SMITH.
Scraper as Semitrailer
WAS recently set the task of transporting four Birtley I scrapers, each weighing 124 tons, from Bukuru to Duku, a distance of 236 miles over bush roads. Delivery was made at Jos, but because of a lack of craneage facilities, the railway trucks had to be taken on to Bukuru.
It was decided that the easiest method would be to remove the front axle of the scraper and to couple the swan neck to the fifth wheel of the Albion tractive unit. To do this, a special adaptor had to be fabricated from steel plate to fit on to the underside of the swan neck.
Once this had been fitted it was possible to arrange for the first journey. It was necessary to send a police escort ahead, as, for the greater part of the trip, the roads would not permit two vehicles to pass, being only 10 ft. wide. The overall width of the machine was 12 ft. 6 in. and the width over the tyres 9 ft. 2 in.
On the Panshani Pass, which drops 500 ft. in a mile, a second Albion was coupled to the rear of the scraper to provide extra braking power. There was no braking system on the scraper. The journeys were made without difficulty, each scraper being delivered on site within two days of leaving Jos.
Mechanical Engineer, Public Works Department. Nigeria.
What a Difference a Word Made
IN my letter, "Cutting Out Petrol Engine Cylinder" I (June 11), the word " camshaft " should, of course, have read "crankshaft," as the context implied.
London, W.13. E. S. COOKE.