50 Years of Service to Busy Carlisle
25th June 1954
Page 56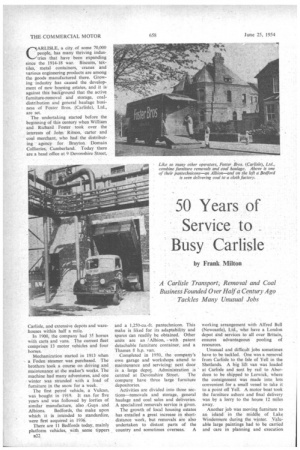 Page 57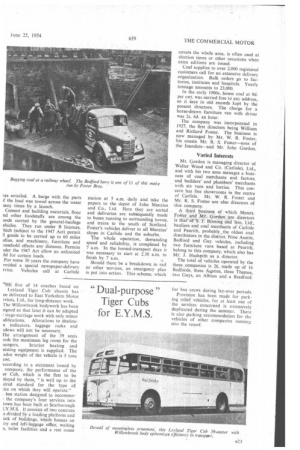 Page 56, 25th June 1954 —
50 Years of Service to Busy Carlisle
Close
by Frank Milton
CARLISLE, a city of some 70,000 people, has many thriving industries that have been expanding since the 1914-18 war. Biscuits, ' textiles, metal containers, cranes and various engineering products are among the goods manufactured there. Growing industry has caused the development of new housing estates, and it is against this background that the active furniture-removal and storage, coaldistribution and general haulage business of Foster Bros. (Carlisle), Ltd., are set.
The undertaking started before the beginning of this century when William and Richard. Foster took over the interests of John • Ritson, carter and coal merchant, who had the distributing agency for Brayton Domain Collieries, Cumberland. Today there are a head office at 9 Devonshire Street, Carlisle, and extensive depots and warehouses within half a mile.
In 1900, the company had 35 horses with carts and vans. The current fleet comprises 13 motor vehicles and four horses.
Mechanization started in 1913 when a Foden steamer was purchased. The brothers took a course on driving and maintenance at the maker's works. The machine had many adventures, and one winter was stranded with a load of furniture in the snow for a week.
The first petrol vehicle, a Vulcan, wai. bought in 1919. It ran for five years and was followed by lorries of similar manufacture, also Guys and
Albions. Bedfords, the make upon which it is intended to standardize, were first acquired in 1936.
There are 11 Bedfords today, mainly platform vehicles, with some tippers B22 and a 1,250-cu.-ft. pantechnicon. This make is liked for its adaptability and spares can readily be obtained. Other units are an / Albion, with patent detachable furniture container, and a Thames 8 h.p. van.
Completed in 1950,. the company's own garage and workshops attend to maintenance and servicing: next door is a large depo). Administration is centred at Devonshire Street. The company have three large furniture depositories.
Activities are divided into three sections—removals and storage, general haulage and coal sales and deliveries. A specialized removals service is given.
The growth of load housing estates has entailed a great increase in shortdistance work, but removals are also undertaken to distant parts of the country and sometimes overseas. A working arrangement with Alfred Bell (Newcastle), Ltd., who have a London depot and services to all over Britain, ensures advantageous pooling of resources.
Unusual and difficult jobs sometimes have to be tackled. One was a removal from Carlisle to the Isle of Yell in the Shetlands. A big lift van was loaded at Carlisle and sent by rail to Aberdeen to be shipped to Lerwick, where the consignment was made into lots convenient for a small vessel to take it to a point off Yell. A motor boat took the furniture ashore and final delivery was by a lorry to the house 12 miles away.
Another job was moving furniture to an island in the middle of Lake Windermere during the winter. Valuable large paintings had to be carried and care in planning and execution
vas entailed. A barge with the parts :f the load was towed across the water -any times by a launch.
Cement and building materials, flour nd other foodstuffs are among the oods carried by the general-haulage glides. They run under B licences, hich (subject to the 1947 Act) permit It goods to be carried up to 60 miles Wills, and machinery, furniture and ausehold effects any distance. Permits ider the 1947 Act allow an unlimited Id for certain loads.
For some 30 years the company have .ovided a special newspaper-delivery rvice. Vehicles call at Carlisle station at 5 a.m. daily and take the papers to the depot of John Menzies and Co., Ltd. Here they aresorted and deliveries are subsequently made to buses running to surrounding towns, and trains to the south of Scotland. Foster's vehicles deliver to all Menzies' shops in Carlisle and the suburbs_
The whole operation, demanding speed and reliability, is completed by 7 a.m. In the horsed-transport days it was necessary to start at 2.30 a.m. to finish by 7 a.m.
Should there be a breakdown in rail or other services, an emergency plan is put into action. This scheme, which covers the whole area, is often used at election times or other occasions when extra editions are issued.
Coal supplies to over 2,000 registered customers call for an extensive delivery organization. Bulk orders go to factories, institutes and hospitals. Yearly tonnage amounts to 23,000.
In the early 1900s, house coal at 9d. per cwt. was carried free to any address, so it gays in old records kept by the present directors. The charge for a horse-drawn furniture van with driver was 2s. 6d. an hour.
The company was incorporated in 1927, the first directors being William and Richard Foster. The business is now managed by Mr. W. R. Foster, his cousin Mr. R. S. Foster—sons of the founders—and Mr. John Gordon.
Varied Interests
Mr. Gordon is managing director of Walter Wood and Co. (Carlisle), Ltd., and with his two sons manages a business of coal merchants and factors, and builders' and plumbers' merchants with six vans and lorries. This concern has fine showrooms in the centre of Carlisle. Mr. W. R. Foster and Mr. R. S. Foster Pare also directors of this company.
• A third business of which Messrs. Foster, and ,Mr. Gordon are directors is that 1: Binning and Son, Lid:, hauliers and coal merchants of Carlisle and Penrith, probably_the oldest coal distribittors in the district. Nine Austin, Bedford and Guy vehicles, including two furniture vans based at Penrith, belong to this company, which also has Mr. J. Hudspith as a director.
The total of vehicles operated by the three companies is 26, made up of 16 BedfOrds, three Awstins, three Thames, two Guys, an Albion and a Bradford.